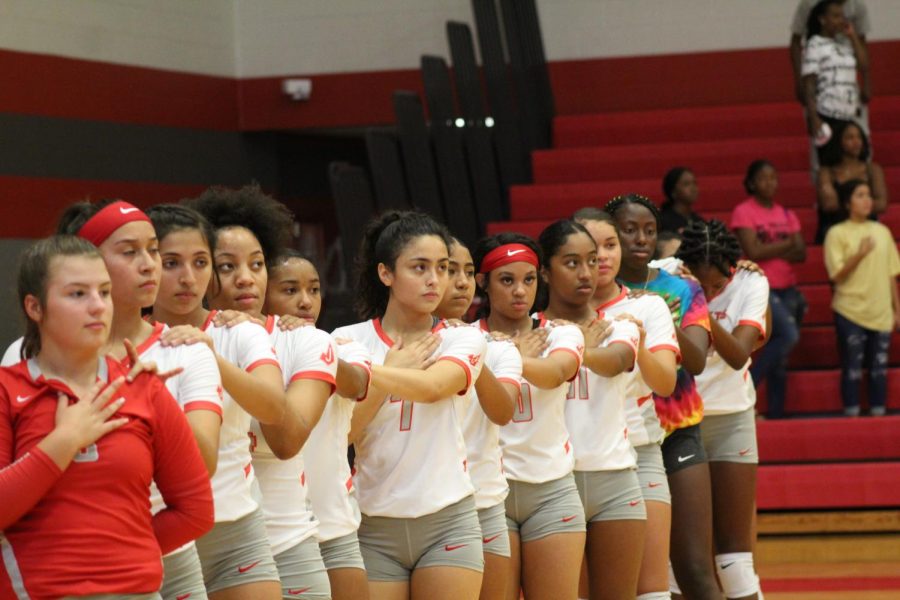 Maya Flowers
The Lady Rockets were training all summer to prepare for the upcoming 2019- 2020 volleyball season. They had tryouts on August 1, 2019, and went running from there to begin preseason. 
They had two practices and three scrimmages back to back. They also traveled to Mansfield, Texas to compete in a competitive tournament. 
"It was good competition," varsity coach Kimberly De Los Santos said. "It was good for the girls to get out of this scenery and to go against teams they didn't know anything about. That was a good surprise for them because they didn't go into [the tournament] with preconceived notions of the teams they're playing."
This year, the varsity volleyball team has more variety of all grade levels from freshmen to seniors. 
"Having fresh blood in the system [with] newer, younger girls is a breath of fresh air," De Los Santos said. "It's definitely a lot easier to manage and work with."
With new players comes new coaches. De Lo Santos is the only returning coach for the volleyball team. The new coaches consist of Cassandra Garza for the freshmen, Andrew Fields for the junior varsity, and Mallory Hibbert as the assistant varsity coach. 
"It's exciting because this year is probably the first year I feel a little more prepared for my program as a whole. I feel like the coaches are very capable and they are adding to my team," De Los Santos said. 
There are three games and one tournament left before districts begin, but the Lady Rockets are keeping a determined mindset. 
"We are definitely working together, growing as a team, and working for the growth/improvement of our program." Senior Jaeden Burroughs said. 
The expectations are set high this year for the team in hopes to go further in district play. 
"I think we're going to be more competitive than we were last year because the girls are definitely working better together," De Los Santos said. "It's a huge win for me as a coach that they're willing to give themselves up for the better of the team." 
The Lady Rockets will have their next game for preseason on Friday, August 30, 2019, against St. Mary's Hall at home and their first district game on Friday, September 13, 2019, at Steele High School.