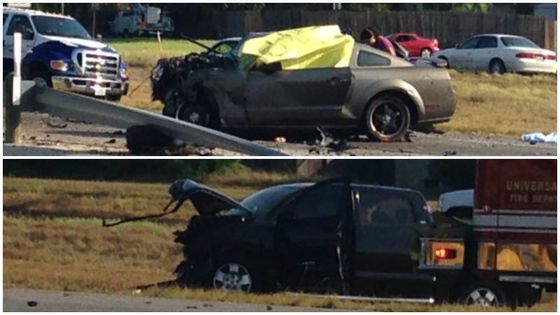 On the morning of the last day of summer band, director Mr. Jeffrey Keyes received a call from assistant band director Dean Ponseti's wife. She informed him that Ponseti had been into a serious car accident.
Ponseti, going the speed limit, was driving to work down 1604 East. He was hit head on by a distracted driver, who crossed the median, going about 90 miles per hour.
"I didn't realize how severe it was. I thought it was a fender bender," Keyes said.
Evidence showed that the other driver was being distracted by a phone, or his small dog, which also passed away in the accident. On top of everything, the other driver was not wearing a seatbelt and his car had constant electrical problems. With all these problems, it showed that he was negligent. Sadly, he lost his life.
People were hesitant to help Ponseti because his car was still running. However, an off duty paramedic did. The paramedic instructed Ponseti to unlock the door so he could try and stop the engine. The paramedic also called Ponseti's wife to tell her the news, helping him stay conscious through the whole time.
"It was kind of hard to focus about marching band when someone you care about is in pain and is hurting," assistant band director Austin Clements said.
Ponseti broke his radius and ulna, his left collarbone, L5 vertebrae, nine breaks in his arm, and severe contusions due to the seat belt. They took him to Brooklyn Army Medical center, a military hospital.
His truck was demolished beyond repair. All that was left was the running engine. Thanks to breakaway bolts in Toyota cars, the engine, upon the head on collision, broke away from the frame and dropped to the ground and slid under the vehicle.
"All it changes is my view on life now because I could've been a statistic as well," Ponseti said. "God saved me,"
Students made "Play 4 Ponz" and "Make Ponz Proud" shirts and bandanas. When Keyes went to drop off the flowers, gift baskets, and cards, his car was completely full. The percussion section played a tribute to Ponseti by making a skit about him called, "What Would Ponz Do," where one of the students imitated Ponseti on the field. Videos of the skit were sent to Ponseti, which he appreciated.
His extended percussion family, whom he had played with and known for years, as well as many fellow percussionist sent emails from Australia, Britain and all over the country to show their love and support.
"When I visited him in the hospital, he was his normal self, maybe in some pain, but he was cracking a few jokes already," Clements said. "Not even a 90 mph wreck could change Mr. Ponseti."
He is not able to conduct or model for his students as much now. He gets more fatigued and has trouble with working the computer because of his arm being in a cast. However, he still shows up to work with his students every day, and will eventually be back to the Ponseti the students know.
It puts things into perspective that Ponseti drives to work the same route as many the teachers and students. It could've been anyone. It shows that life is precious and it could be taken away very quickly. No job is too important; no text is worth looking at.