Kiela Ramos
Students, teachers, and parents dedicated their summers to hot practices in the sun, countless hours of hard work, patience and dedication. Every ounce of effort paid off in the end.  After a very successful season, marching has finally come to an end for the Judson Rocket Band.
Judson took the field at multiple stadiums this season including Chaparral Stadium in Austin, Heroes Stadium in San Antonio, and even our very own D.W. Rutledge Stadium.
October was a very eventful month for the band and color guard, starting with the annual Night in Ole Converse Parade and ending in competition every Saturday.
The competition season started off at Heroes Stadium with the theme "Locomotion." Judson's band placed first in the 6A division, along with an award for Best Drum Major and Color Guard.
"I think my favorite part about marching band was being together, and getting so close to one another. We've always said that band was a family, but during marching season, you really feel it," bassoon player Jessica Meuer said.
After advancing to the finals, the band headed to Westlake High School in Austin, where Judson finished in 7th place. Alongside the band, color guard received Best Auxiliary.
The band received a one in UIL competition when they competed at D.W. Rutledge stadium. Scores range from one to three, with a one being the highest score a school can get. The band was judged on their marching to their movements on the field.
Lastly, the band moved back to Heroes Stadium for what would come to be the last marching site for the season. Out of 36 bands, Judson placed 12th in area, followed by our sister school, Wagner, in 13th place. Unfortunately, this ended the marching season for the band, as they were unable to advance to the next round.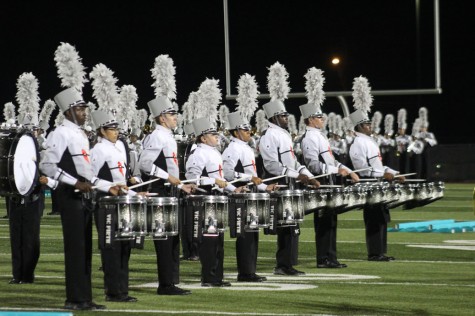 Apart from the band, the drum line headed to Brandeis High School for their last and final competition. Jay Dearing, Judson's drum line captain, took first place in a snare solo. As a whole, they landed in 3rd place.
Band is more than just a way to pass time for these students. They become a part of something bigger, something bigger then themselves and learn to coexist with each other.
"Band is like my second life and my second family. You find lifelong friends who you can work with and build relationships with. Soon you begin to find yourself growing as a person, it builds character. It's music; it's what we love to do. Being in band is hard work, and consists of a lot of concentration," senior Emmanuel Rivera said.