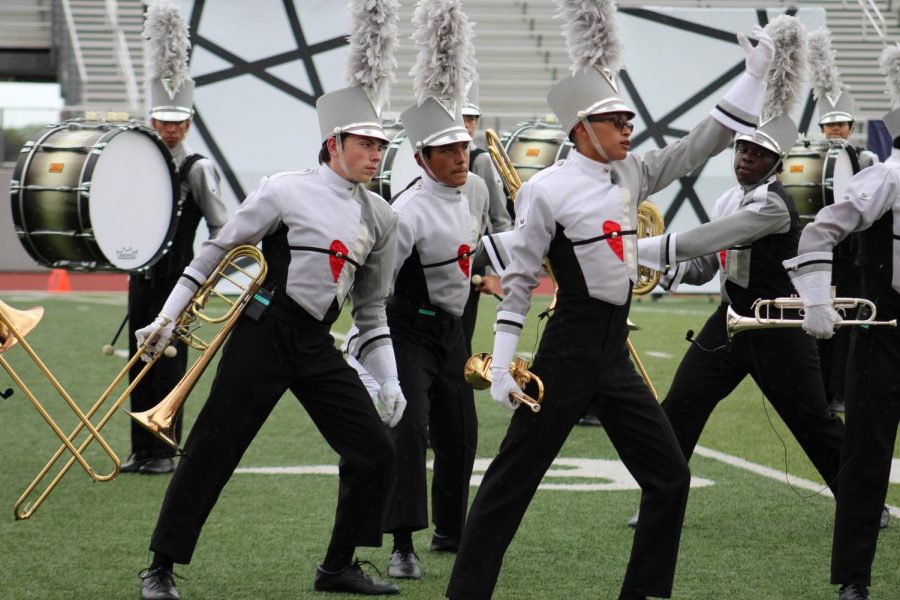 Montserrat Reyes
On October 13, 2018, the Judson High School band, led by director Mr. Jeffrey Keyes, competed in the Yamaha Cup at D.W. Rutledge Stadium. The competition was against 21 other high schools. After giving a great performance and winning in their division in the prelims, the band came out in 4th place overall in the finals.
This year's show is titled "Mosaic" and it features themes of abstract art.
"In all honesty, it's a really awesome show; definitely my favorite out of the four years I've been in band," senior drum major Gustavo Lopez said. "The outcome of it has really been more than I expected."
With a Grand Champion win from the Seguin Marching Contest and competition season in full swing, the energy during practices is intense.
"Before competition season, we are just very [calm] but we are still getting work done. When it's competition season, we are working every day, working on every detail, [and] cleaning absolutely everything. There's no stopping," junior drum major Lonnie Buck said. "We have to keep getting better to keep on par with all the other schools."
Though the winning streak gained over the last two years at Yamaha Cup was lost, the show was still impressive and showed off many aspects of what the Judson band is capable of.
"There is just so much more effort [this year] – we have more props, more challenging music and it's just so cool to see it all work together," senior drum major Tejas Fruean said.
After this weekend, the band is far from finished with the season.
"Many of us seniors are very disappointed in the results," Fruean said. "However, there's nothing to be ashamed about. We still have UIL coming up. Our band is known for having first division ratings in everything and also getting sweepstakes in marching and concert season."
The directors and majors reminded the band members to stay positive and remember what is in front of them.
"It's just important for us to remain focused and persistent even with a 'loss' at a competition," Fruean said.
On October 20, 2018, the band competes in the region UIL marching contest, which can qualify them for area and eventually to state.