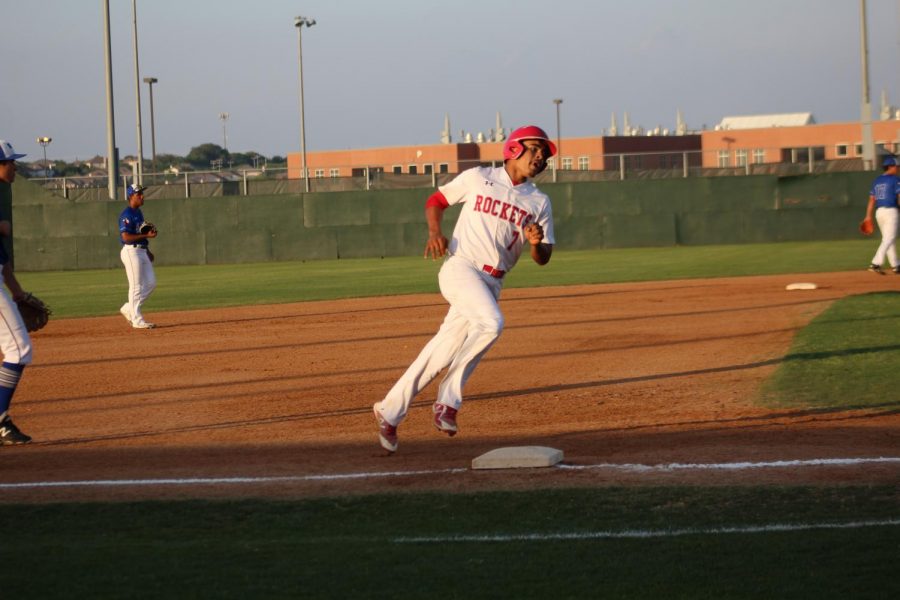 Miriam Zavala
After two consecutive losses, the Judson baseball team returned to the Frank Arnold Athletic Complex to face off against the New Braunfels Unicorns.
"It's very important that we go out and we take each game one at a time," Coach Donald Harris said " [however] the biggest thing we look at is that we go out and we compete."
At the top of the first inning, New Braunfels hit a home run towards left field on the fourth pitch of the game, bringing the score to 1-0 for the Unicorns. Following a strikeout by the Unicorns, they hit a ground ball across left field. The Rockets Antonio Rosales pitched the ball to first base for the second out. Later, the Unicorns hit the ball towards left field and Rosales again popped up to first for the third out.
At the bottom of the first, the Rocket's Caimyn Holiday hit a home run towards left-center field on his second pitch, making the score 1-1. Later, Rosales hit towards left field and ran to first base. Next, the Rockets Anthony Monjarez had four balls outside the pitcher's box for a walk to first base, where he was substituted by Raul Lopez as a runner. The first and second bases were loaded. Afterward, Mason Gombas hit towards center outfield and was caught out by the Unicorns, ending the first.
Fast forward to the sixth inning, with first and second bases loaded, the Unicorns hit towards left-center field and the Unicorns ran across home plate bringing the score to 9-2. Soon after, New Braunfels scored with a hit, bringing the score 10-2.
After a hit from New Braunfels with the third base loaded, the Unicorns scored, bringing the score to 11-2 for New Braunfels. The game ended with Judson falling to New Braunfels, 13-2.
The Judson baseball team will face the Smithson Valley Rangers on Tuesday, April 17, at Frank Arnold Athletic Complex. The next three games will determine if the baseball team advances to the playoffs.