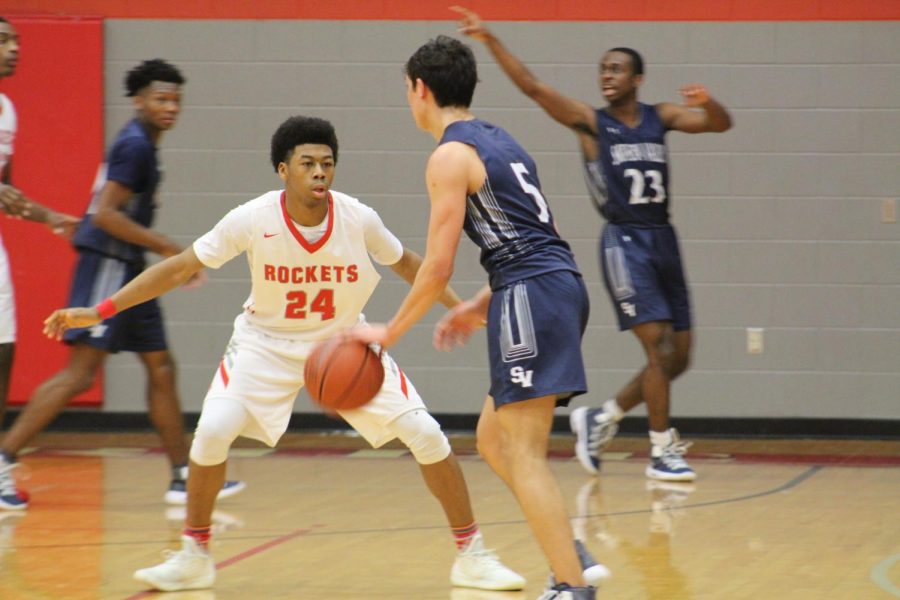 DreQuan Crawford
On Friday, February 1, the Rockets (21-12) faced off against Smithson Valley (7-22).
To start the first quarter, junior Ambrose Johnson got the and-one call but couldn't capitalize, leaving Rockets up 2-0. Smithson Valley made an easy layup to tie and got two more scoring possessions to take the lead. With both teams having difficulties scoring, junior Kyonte Holder scored a fast break layup which brought the Rockets back in the game. Smithson Valley again got multiple scores but Holder got another layup to try to get back into the game. Seniors Thomas Baird and Joseph Trevino both sunk threes, causing the Rockets to come back 12-13.

In the second quarter, both teams got multiple scoring drives, but Smithson Valley got the upper hand obtaining a three and a layup. Senior Cameron Jones came back with a three of his own making the score 19-23. Smithson Valley scored again, but Holder made another outside shot. Smithson Valley also made a three, but senior Dhimani Hernandez made a layup, which pressured Smithson Valley's defense, giving junior Amarea Bailey Davis the foul call from the three and going on to make all three free throws. Junior Mike Chandler got the foul and converted one free throw, ending the quarter 27-32 with Smithson Valley leading.

In the third quarter, both teams had successful scoring drives but Smithson Valley came up short, giving Chandler a layup and a foul with him making both shots. The Rockets, with good defense, stopped Smithson Valley from scoring on multiple possessions, but couldn't hold as Smithson Valley got two free throws. Both teams had scoring possessions, but Davis finished with the inside layup, which ended the quarter at 39-40 with Smithson Valley up.

In the fourth quarter, Davis made the midrange jumper to give the Rockets the lead. Chandler got on the line and made both free throws to further the lead to 43-40. Smithson Valley tied up the game with a three, but Hernandez quickly changed the lead with two put back shots, making the score 47-43. Smithson Valley came back with a three but could not stop Holder as he got fouled and made both free throw shots. Smithson Valley then matched with an inside score. Soon after, both teams found difficulties scoring. Davion Wilson stopped the drought with an inside score to bring Rockets up by six. Davis furthered the lead with a fast-break layup and Smithson Valley made a quick three ending the game at 53-49 with the Rockets taking the comeback win.