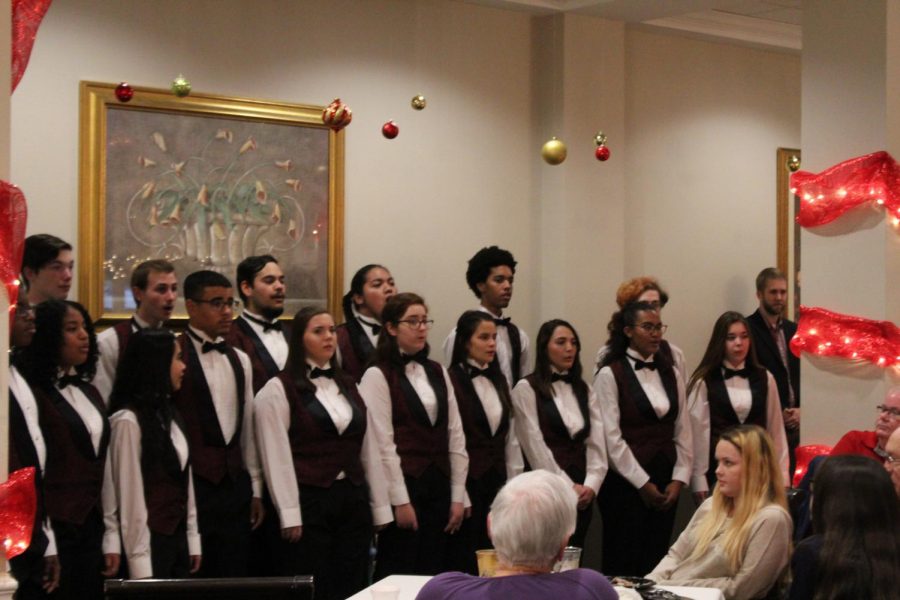 Alexandra Villanueva
On Friday, December 8, Esplanade Gardens hosted their annual Christmas party for its residents, where the staff invited the Judson Cantate choir to perform at dinner.
The Gardens is home to many senior citizens, both in memory care and assisted living, with a caring staff make their stay as enjoyable as it can be. Family and friends were invited to celebrate the season with their loved ones. All around there are smiles and laughter as the Christmas spirit was spreading throughout the room.
"[The residents] deserve this. They deserve to have [splashes of fun] during the time they stay here," activities director Mary Croth said.
Judson's Cantate choir made an appearance halfway through dinner. Starting off with a Joy to the World medley, they sang with elegance and pride. They went through several songs ranging from soft and sweet lullabies like Silent Night, to peppy and fun carols like Runnin' to the Manger.
"They are wonderful," marketing adviser Justin Burton said.
In Runnin' to the Manger, several singers were brought out into the spotlight for a solo. Those who were included were senior Jamel Alexander, senior Caimyn Holiday, senior Randy Williams, senior Stephanie Torres, senior Grace Kendall, and sophomore Lafililo Fa'afti.
"The choir is [very] close. We're basically family. It's so much fun to be able to sing with them," sophomore Benjamin Ward said.
The choir ended their performance with Carol of the Bells, making the crowd sing and hum along. There were many rounds of applause and cheers for the wonderful choir.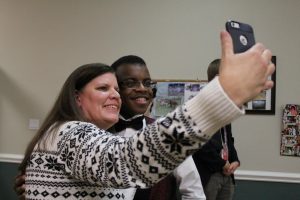 Another small surprise of the event was a past student and teacher seeing each other again. Mrs. Kristi Ann Villanueva and senior Brian McCrary were able to catch up before the concert. Since Brian is a senior, he will be walking through his schools at the end of the year and saying goodbye to his teachers, including Villanueva.
"It was great to see him after so long. He's going to be part of the second class I see graduate," Villanueva said.
The night ended with the residents taking a picture around the Christmas tree together. Many were still happy from the evening they had and did not seem to have any inclination to let the party wind down anytime soon.