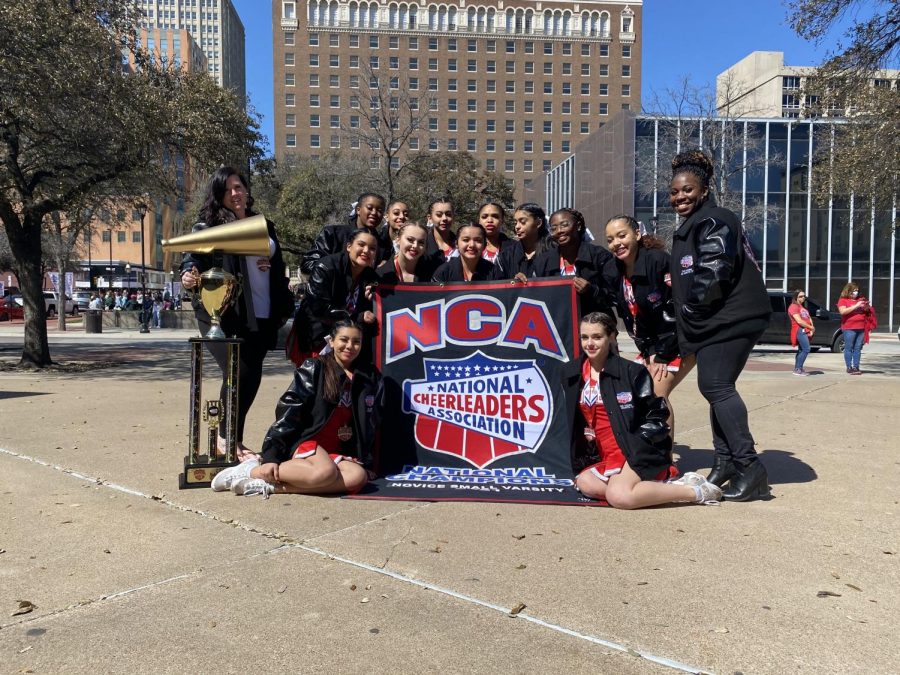 Courtesy of Latonya Jones
On Sunday, March 7, 2021, the Lady Rockets went to the National Cheer Association (NCA) national championships, where they hit zero (a perfect score) and won their first national championship for the first time in 21 years. 
The Judson Cheerleaders have been looking forward to the NCA competition since the beginning of the year, they put hours on the mat working towards their goal of winning NCA.
"We have prepared by having countless practices, working past obstacles, and continuing to strive for reaching our goals. Our motto this year was 'one team one dream' and we really focused only on being as strong as our weakest link and building a team bond," Head Coach Latonya Jones explained.
Despite the perfect score at the NCA championships, this year was everything but perfect for the team. 
"One obvious obstacle was the pandemic and online learning. We had to work through those stipulations all while trying to keep the team safe. We did end up quarantining for two weeks which set us back some practice time. The week before competition we had an injury which we thought would take us out of the competition completely. However, the team continued to strive and at the end, it all paid off," Jones said. 
Although this year had been tough for the cheerleaders, all of their hard work, blood, sweat, and tears finally paid off when they heard their name called on the mat. 
"Getting our names called for first place was such an unreal feeling. Knowing that you left your whole heart on the mat with your teammates and then getting the outcome you want from that is an unexplainable feeling. I would do anything to relive that moment," sophomore Sierra Orosco mentioned.
Even after winning the competition, the team was still shocked. They were so proud of their accomplishments, even with the many setbacks they faced.
"The entire season was definitely unexpected. No one expected a small team from Converse to win a national title while going through a life-changing pandemic," Orosco explained
The team is looking forward to new beginnings with their recently earned win. They hope to bring more people in the program and be able to win the competition again next year. 
"Hopefully, us winning this title will bring a lot of new faces to our team since we do have a good amount of seniors leaving," Orosco said. "I think we're going to come back 10 times harder next year to try and win our title again."
—-
If there are issues with this article, report it here.