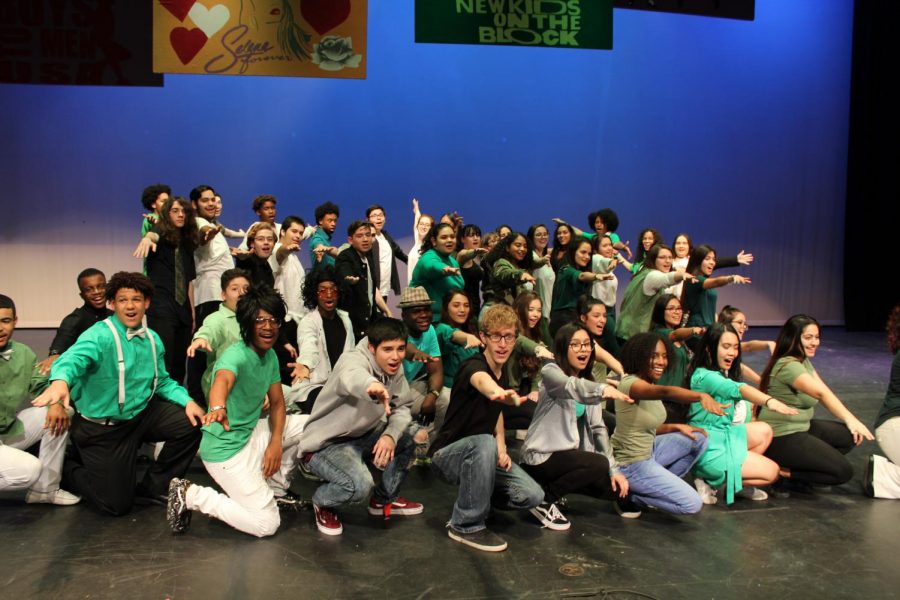 Alexandra Villanueva
On Saturday, February 3, the Judson Choir department performed their thirty-sixth annual Rocket Revue. This year's theme was 90's Kids. The choir sang songs from the Backstreet Boys, Michael Jackson, and Britney Spears.
Each choir performed a song or medley, along with many solos by individuals. Members of Cantate, called "The Backyardigans" performed "It's Tricky" by RUN-DMC.
"I did the choreography for the group," senior Miles Fuertes said. "I had the moves in my head and they helped me put it together."
"Sunday Morning," originally performed by Maroon 5, was put on by senior Mckenzie Giger, which was a soft and lovely transition before another group performance.
"This is the song I sang when I auditioned for Cantate. Since I'm a senior, and this is my last year, it just feels like I'm coming full circle," Giger said.
Senior Grace Kendall sang true to her song, "Beautiful." Cheers were heard before, during and after her performance.
"I used to be body shamed so I wanted to sing this song so I could put it out there that there is nothing to be ashamed of," Kendall said.
Sophomore Molly Tilton, who sang "Wild One," loved participating in her second Rocket Revue and listening to the other performances.
"I chose my song because I have a really good friend who embodies it just as well as I do. We both want to be different things than others want and branching out is part of the song," Tilton said.
"Toxic," sang by Britney Spears, is upbeat and a little wild. However, when sophomore Evette Dears came on stage for her performance, she sang it with grace and serenity. A beautiful contrast to the original sound.
"I sang the Melanie Martinez version, not the Britney Spears one. I like the sound of this one better," Dears said.
Senior Brian McCrary was not one of the few to sing an individual solo. Instead, he starred in a majority of the group performances.
"I can't choose a favorite, but I really loved the guy's piece. That one was great," McCrary said.
Everyone at the concert had lots of fun and were very proud of their performances. For the seniors, they will be able to remember this Rocket Revue with hard work and a lot of laughter.