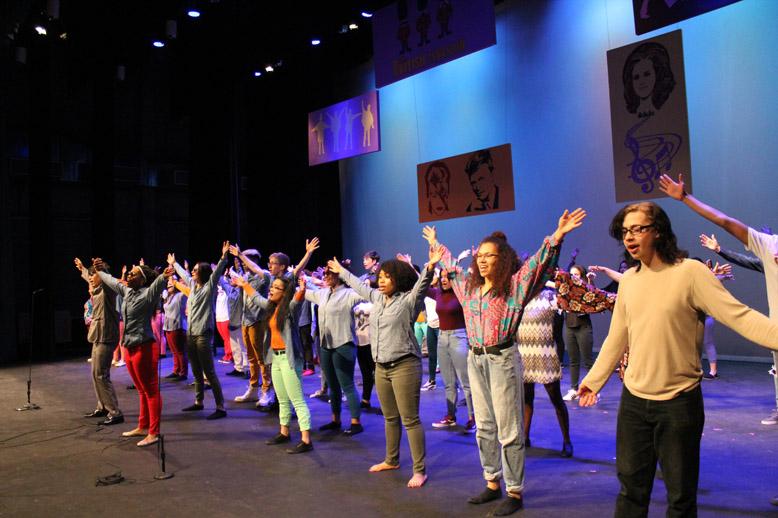 Alicia Riojas
On February 4, 2017, the choir had its annual Rocket Revue. The theme for this year was British Invasion, which included songs such as Rumor Has It, The Scientist, Next To Me, and a 12 minute mashup of 15 Beatles songs. Choir broke down the show into 16 solo singers and nine choir groups over the course of a three hour show.
"There was a lot of work that went into that," junior Jayden Mittlestedt said.
The show began with Cantate performing Queen's "Crazy Little Thing Called Love," followed up by Nova's rendition of "Burn" by Ellie Goulding.
"I liked the lines they did in Burn," junior Taryn Sage said. "For 'Crazy Little Thing Called Love' it was a lovey… dance that [went] with [the] song",
After two solos, the Concert Women came on stage with a sassy "Wannabe" by Spice Girls and Ladies A Cappella came on after with "Pocketful of Sunshine" by Natasha Bedingfield.  
"We had a lot of energy [but] we were a little nervous," junior Gabriella Hern said.
Half way through the show, Chorale Men came on with a lighter tone of "Rolling in the Deep" by Adele and was immediately followed up by Cantate singing "Lights" by Ellie Goulding with a glow stick lit dance.
"It's creative [the glow sticks] you don't usually see that in a choir concert. It's energetic, they get so into it", Sage said.
Before the finale, Chorale gave a 12 minute mashup called "The Beatles in Revue."
"When we sing the Beatles, we really get into it. It was a lot of hard work [and] we all can say it was a bit of a struggle," Sage said.
The grand finale was "Live While We're Young" by One Direction. The crowd went wild in response to the joyful tone of the choirs combined together.