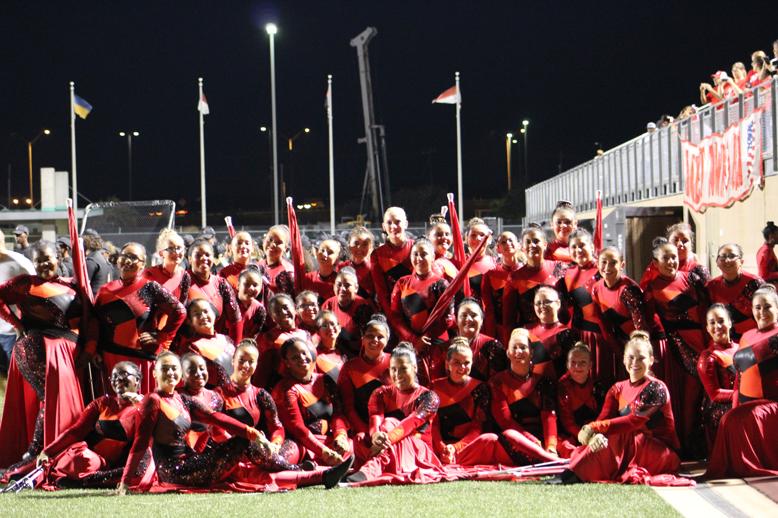 Nathan Fowler
Using the beauty of flags and movement, the winter colorguard presented their 2016 show named Please Come to Boston, a western theme where a guy from Tennessee is asking his girlfriend to come with him to Boston but she declines because she loves the man from Tennessee, not the man he becomes in Boston.
Winter guard is one of the fastest growing of the marching arts and high school marching bands benefit from the skills developed in these winter programs.
"It's really exciting and very intense, but it's pushes you to the limit," sophomore Jinelle Drake said.
During 2015-2016 marching season, the colorguard enhanced the show "Dialogue" and was awarded best auxiliary in several competitions. Even after marching season was over, the color guard still cheers in the stands.
"I think it's great, we are all like family, like sisters," said senior Tania Thompson.
The winter guard attended the International Houston Regional at Hightower High School and placed second place overall. The color guard has two more regionals, one in San Antonio and the other in Austin, for TCGC, Texas Color Guard Circuit.
"The better we do at regionals, the better placement and chance we will have in Dayton" senior Baylie Kraft said. "We just have to push ourselves."
The colorguard have done bake sales, car washes, and every fundraiser available to raise money for their competition expenses at Dayton Ohio for WGI, World Guard International Championships, where the best of the best compete for the coveted title of world champions.
Currently, the colorguard is ranked first in the nation among all groups attending, more than 300 other color guards.
"We got to where we are because we fight, people don't really know what colorguard is, but this is our passion," Kraft said.
The sport of the arts has dramatically evolved over the past few years. Colorguard, gaining recognition everywhere they perform, is excited to showcase their talent and elegance at WGI.