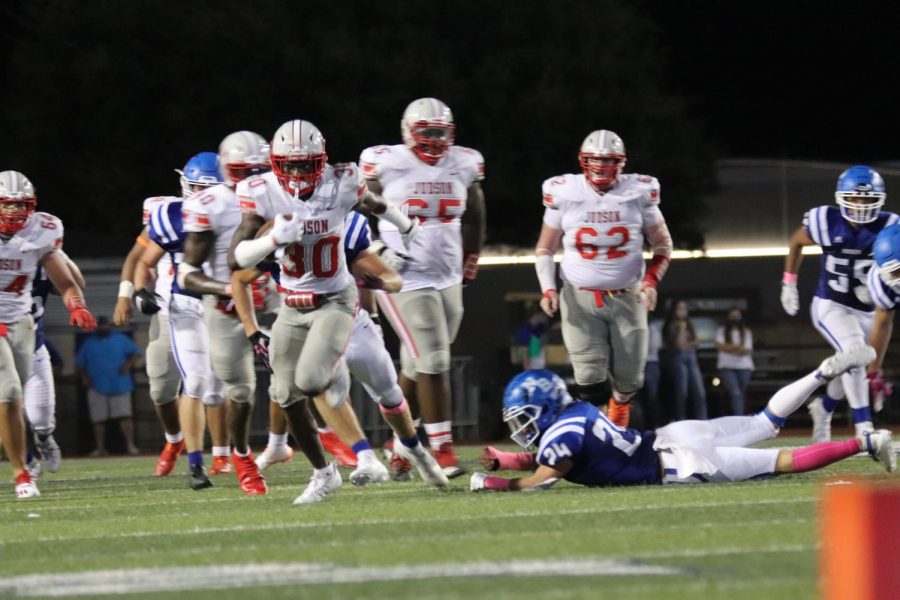 Emma Tubbs
On Friday, October 9, 2020, the Judson Rockets (0-1) faced off against the New Braunfels Unicorns (2-0) at Unicorn stadium. 
At the beginning of the game, the Unicorns were pushed back all the way to the 25-yard line and were quickly forced to punt. Once Judson had possession, senior De'Anthony Lewis ran the ball all the way to the 12-yard line to set up junior Michael Burroughs to score the first touchdown of the night. After the Unicorns were yet again forced to punt, the Rockets kicked a field goal to increase their lead to 10-0, ending the first quarter. 
As the second quarter began, the Judson Rockets took over on their 25-yard line. The Rockets were pushed back 15 yards due to a personal foul, which was then followed by an interception from the Unicorns, giving them possession of the ball early in the second quarter. The Unicorns marched down to the 50-yard line but were forced to punt as senior Isaiah Washington returned the punt down to the 5-yard line. New Braunfels then let the clock run which concluded the second quarter as the score remained 10-0. 
Lewis ran the ball down a total 55 yard to the end zone to start the third quarter off with a Rocket touchdown. Once the Unicorns had possession, they were quickly forced to punt. After Judson took over the ball, senior Davion Wilson ran all the way down to the end zone for another Judson touchdown to conclude the third quarter in the lead, 24-0.
To start the fourth quarter, the Rockets scored yet another touchdown. Once the Unicorns had possession, they were again forced to punt. Burroughs then ran the ball in for another touchdown, followed by the Unicorns finally being able to get their first touchdown of the night, which brought the score to 37-7. In an attempt to get as many points on the board as possible, the Unicorns scored another touchdown at the end of the game to give Judson the win over New Braunfels 37-14.
The Judson Rockets (1-1) will face the Clemens Buffaloes (1-1) next Thursday, October 15, 2020, at D.W Rutledge Stadium for Senior Night.
—-
If there are issues with this article, report it here.