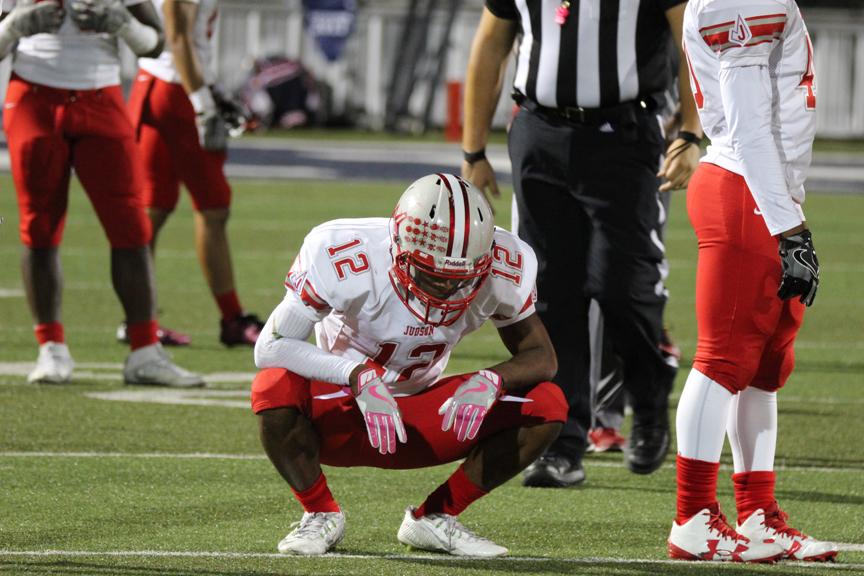 Gustavo Rivera
The Rocket came into the game after a 31-24 nail biting win against the Clemens Buffaloes at home. This past Friday night, at Ranger Stadium, the Rockets played against the (5-2) Smithson Valley Rangers, who are coming off of a 35-3 win against the Canyon Cougars.
In the first quarter, Judson scored with a deep bomb to Kevin Luster for 63 yards, and Julon Williams complemented his pass with a 13 yard touchdown rush.
Smithson Valley would then make a 26 yard field goal to place their first points on the board. With the Rockets backed on their own goal line, pressure was put on Williams as his pass was tipped directly into a defender's hands in the end zone for a Ranger pick six. That would close out the action in the quarter; Smithson Valley 10, Judson 7.
Following a long drive, Ranger's quarterback Josh Adkins finished it off with a two yard touchdown rush, giving them a ten point lead. With one of his many big catches, Ranger wide receiver Trevon Moehrig-Woodard pulled in a 60 yard reception, then Adkins took it in for three yards out for the score.
Judson would be held scoreless in the second quarter going into halftime.
With Smithson Valley receiving the halftime kickoff, they didn't hesitate to extend the lead. Moehrig-Woodard continued his play making with a 34 yard reception, then his fellow receiver, Edwin Martinez, finished the drive with a 21 yard touchdown reception.
After another scoreless drive by Judson, the Rangers put seven on the board with a 38 yard reception by Martinez and a six yard touchdown rush by Adkins. Judson's defense made a comeback spark with a fumble recovery at the Ranger 18 yard line. The offense capitalized with a 11 yard touchdown rush by Williams. The Rangers went into the fourth quarter with a commanding 37-14 lead over Judson.
In the fourth quarter, the Rangers wouldn't let the game go as they marched down the field, Adkins put the game out for good with a 24 yard touchdown rush.
The loss may seem to leave a blemish on the record, but the Rockets are guaranteed a spot in this year's playoffs. The Rockets will compete in the last regular season game against the Canyon (2-7) Cougars at Rutledge Stadium.