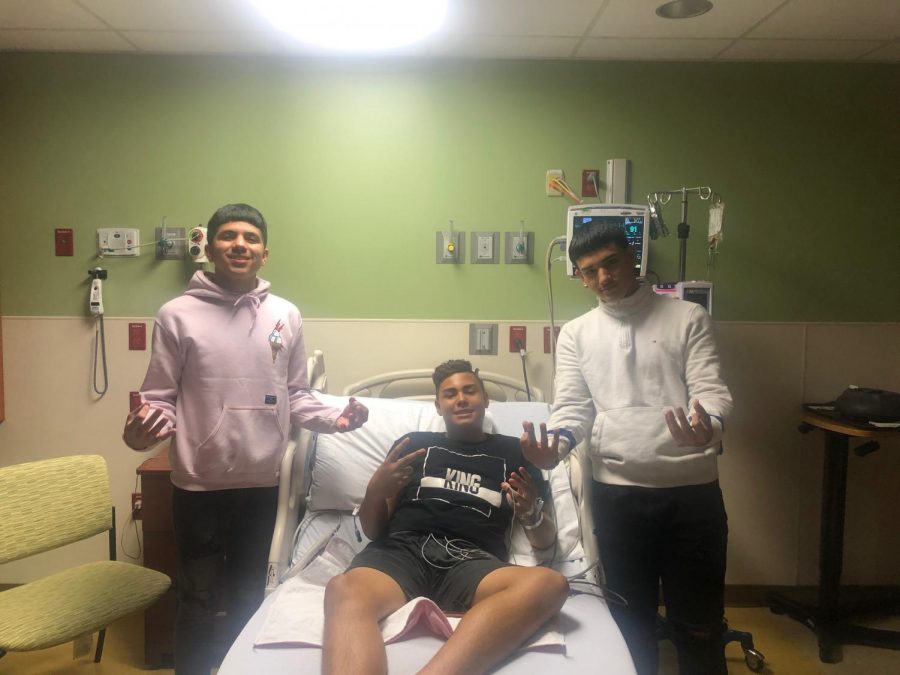 Provided by Jordan Gottachalk
On October 11, among the sea of orange balloons showered on junior Bryce Wisdom during his send-off for his fight against cancer, a group of blue balloons were dropped towards the end of his walk. To the average student, it was another way to honor and celebrate Wisdom or may have included one of his favorite colors. Instead, the blue balloons represented something and someone much more significant. 
The same morning Wisdom was celebrating his last day on campus, freshman Jordan Gottachalk was under heavy anesthesia, hooked up to multiple machines, being attended to by various doctors.
At just fourteen years old, Gottschalk was having open-heart surgery.
"I found out about my heart late eight grade year and it hit me hard. The doctors said it was QT syndrome at first, which is really serious. Later on, when I got checked out more, they told me it was a different type of heart problem," Gottschalk said. 
Long QT syndrome is described by the Mayo Clinic as a heart rhythm condition that can potentially cause fast, chaotic heartbeats. These rapid heartbeats may trigger a sudden fainting spell or seizure. In some cases, the heart can beat erratic for so long that it causes sudden death.
Despite the initial misdiagnosis eight grade year, Gottschalk had struggled with health problems at a young age. 
"I had this from my birth defect and it just got bigger and bigger over time. It's not really common for people my age to have this condition," Gottschalk said. 
The growth of the hole being significant, the surgery had to eventually be scheduled but was inconsistent on the exact date. 
"It was a 15-millimeter hole in my heart and that surgery would be scheduled during the summer, but it kept getting pushed back which furthered my anxiety about it," Gottschalk said. 
The hole he describes is medically referred to as a septal defect, varying in name by location. If the hole does not close naturally, the patient must have it sealed by a surgeon with the only option for repair through open-heart surgery as described by the Mayo Clinic.   
With the realization of this diagnosis and the anticipation of his surgery, Gottachalk knew his life was about to take a major shift. 
"It was a big blow because the previous year in eight grade, I had to have knee surgery and I didn't play football that year. Coming into freshman year, it was very important for me to play football and I was getting ready for it. Then, I found out about my heart and I couldn't play this year," Gottschalk said. 
Nerves and fears aside, Gottschalk had a significantly smooth recovery. 
"I was in the hospital for two nights and then I came home. The doctors said I could go back the next week, but my mom wanted to make sure I was okay, so I was out for one week on bed rest. It went well and I have no pain [after]," Gottschalk said. 
Blue being Gottachalk's favorite color, the outreach from both Wisdom and the community was significant for himself and his family. 
"It touched me a lot because my mom came from this school and most of my family have graduated from this school. Bryce and I were even treated at the same hospital before he left," Gottschalk said. 
With the surgery behind him, Gottschalk has learned a lot about himself and how to deal with adversity in the future. 
"With my knee injury, I got bummed out with school and sports. But with my heart, it was different. I had to fight through this for my friends, family, and the sport that I loved. I learned that If I put my mind to it I can do anything," Gottschalk said. 
For teenagers his age that may go through something similar, he hopes they can find the strength that he has acquired and to not be limited by their struggles.
"If you're going through something like this you just have to keep pushing and know that God has you," Gottschalk said. "If you have a goal you have to keep going for it and don't stop until you get."