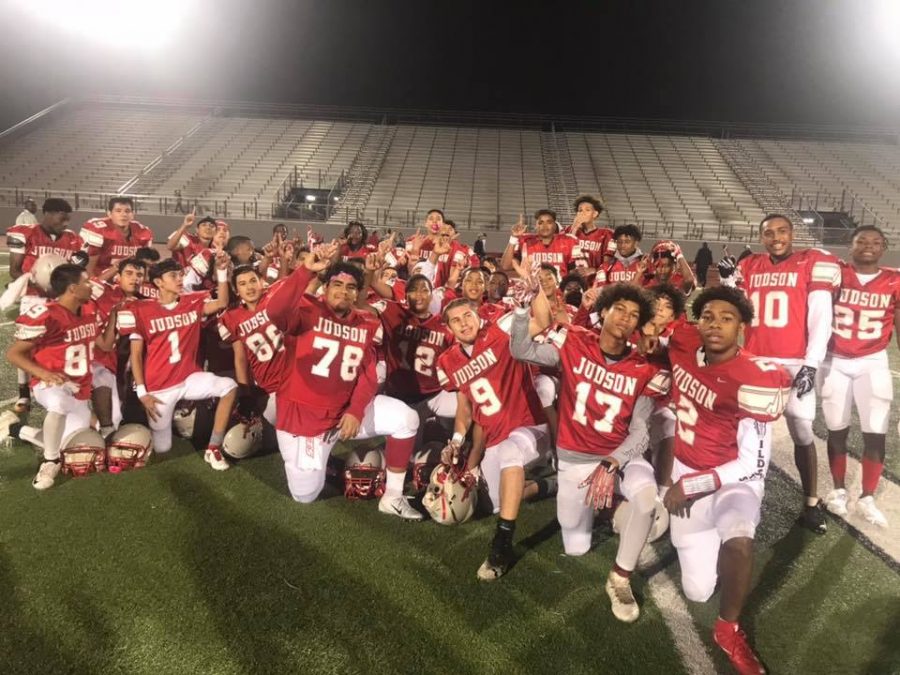 Last night, the freshman football A-team ended their undefeated season against the Clemens Buffaloes, winning 42-6. The win for this team shows a good indicator of the future of the football program as these freshmen continue to grow within the program.
"There are only 19 players on the team. There are not many to choose from and very few backups at certain positions. Most of them play both sides of the ball," head freshman coach Mark Sauceda said. "They never complain about needing rest or numbers on the team. Once they take the field, they find a way to gel and communicate and play for each other."
District 26-6A is one of the toughest in the state, with football powerhouses like Steele and Smithson Valley. However, this win against Clemens shows that the powerhouse that is Judson Football has a future as these students move up in their years.
"The talent level is great (in this district)," Sauceda said. This year's team had to face Smithson Valley twice, which is one of the most successful programs in the area and state. It's always hard to beat a well-coached program like that twice."
However, this season, this group of boys are ready to prove that they are ready to continue their domination in the district.
"They (the boys) just play hard as a unit," Sauceda said. "They are talented. What makes them great is that they understand the game and one another."
It is clear that with this win, and the season the freshmen had, the tradition of Judson football is in good hands.
"The future looks bright for the Rockets with these young men," Sauceda said. "The coaches are excited about the potential some of these boys show. Many of them have been invited to move up for the playoff run. Some will be used as a backup or special team player. Hopefully, they like the experience, continue to grow as a student and player, and fully understand the meaning of Rocket Pride."