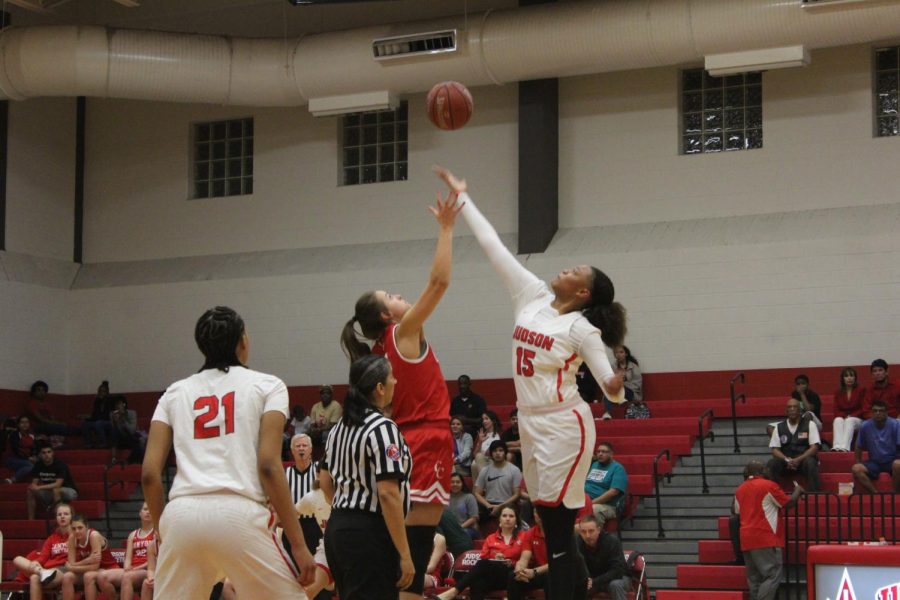 Alexandra Villanueva
On Tuesday, the Lady Rockets competed in their final regular season game against Canyon on the annual senior night event.
In the first quarter, the Rockets began with an all-senior starting five, replacing junior Teanna Huggins and sophomore Kierra Sanderlin. However, neither team could find an offensive flow with Canyon putting the first points on the board at the four-minute mark. From there, senior Tiffany McGarity scored the first points for Judson to match and senior Corina Carter began working into the mix, giving the Rockets a 12-5 run. The Rockets caught an early lead, 15-6.
In the second quarter, the Rockets kept Canyon to only four points total in the quarter, overpowering them with multiple steals and locked in defense. As for the Rockets offensively, they began to flourish with Carter and Sanderlin, getting extensive offensive touches. Senior Kyra White also began her offensive flow within the quarter as well. The Rockets lead at halftime, 35-15. Leading scorers at the half included Carter with 11 points, McGarity with 10 points, Sanderlin with 8 points and White with 6 points.
In the third quarter, Canyon found a few moments of scoring opportunities but were unable to capitalize on the majority of their shot attempts. The Rockets continued their defensive intensity and implemented some offensive touches, with Carter and Sanderlin combining for all of the Rockets eight points. An emphasis was placed on the Rockets moving around their offensive units and preparing for the upcoming playoff games ahead. Nonetheless, Rockets lead the quarter, 43-18.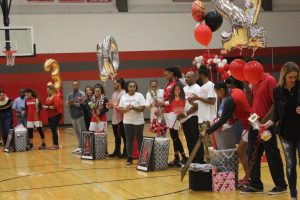 In the fourth quarter, Canyon had their best offensive quarter with nine points scored on three-point shots and a layup. At the five minute mark, the starting five and all seniors were pulled from the game, playing their final game at home. However, that did not stop the underclassmen from putting points on the board with junior Jonmecia Baskin hitting a three-pointer and others scoring layups, re-energizing the crowd. The Rockets took home the easy win, 62-27 lead by Carter with 20 points total and Sanderlin with 12 points total.
The Lady Rockets finish the season 31-5 overall, 12-1 in district play, ranked first in district, 12th in the state, and 79th nationally. The team also features Mcdonald's All American nominees and include players extending their basketball careers at the college level. Overall, the season was extremely successful for the team with playoff games beginning sometime next week.