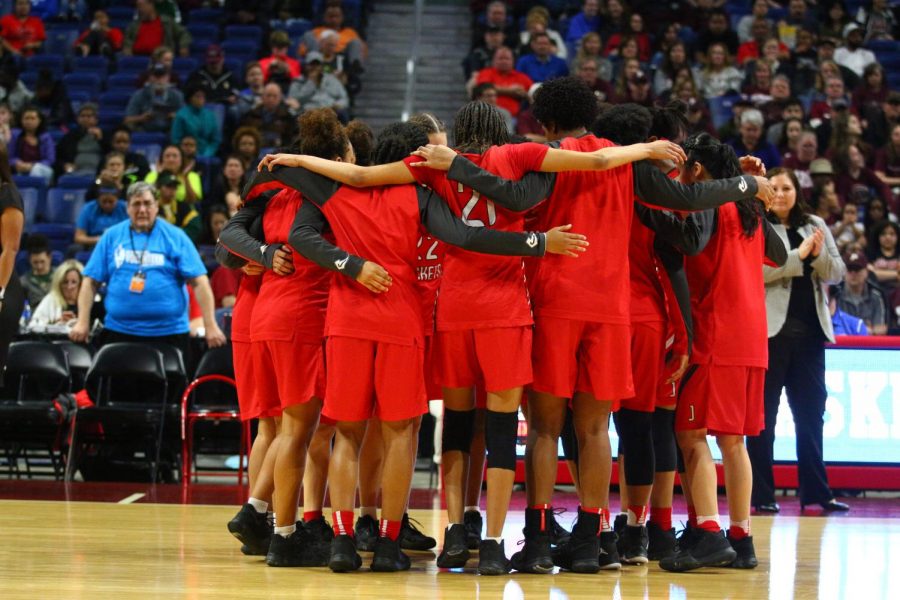 Alon Chavez
On Saturday, the Lady Rockets (34-5) competed in their final game of the season for the 6a championship against Plano (35-6).
In the first quarter, Judson and Plano traded baskets and leads for the majority of the quarter. Both teams slowed each other down defensively, with Plano head coach utilizing the rotation of players. The highlight of the quarter was Desiree Lewis offensive prowess and guard Corina Carter buzzer beater to close the Plano lead by one. Rockets ended the quarter down, 18-17.
In the second quarter, Plano settled in their offense at the beginning of the quarter, growing their lead against Judson, 27-20. Yet, through their expertise in coming back on teams, Judson took over the lead to close the quarter within just three minutes. Center Heaven Mbaruk started the offensive push, with forward Tiffany Mcgarity and Carter finish it off. Rockets ended the half with the comeback lead, 32-29.
In the third quarter, Judson seemed to have cracked the code on the Plano defense and offense. While Plano kept pace towards the end, this quarter was definitely dominated by the Rockets. Despite being a smaller sized team to Plano in the post, Lewis and Mbaruk utilized their athleticism to defend against the larger players. Carter and Lewis continued to carry the team with Judson leading at the end of the quarter, 46-41.
In the fourth quarter, both teams went back to trading baskets – you could see each team fighting for it. Judson was holding the Plano offensive off till the end. Lewis fouled out late into the quarter and Plano saw an opportunity to exploit that. Eventually, Judson lost their lead and the game was tied. Due to a few mental errors from the Rockets, Plano hit a jumpsuit and free throws to catch a lead with few minutes left. Judson could not find a response and fell to Plano, 62-58.
Despite the loss, Judson played their heart out and have definitely opened the eyes of those who just see Judson as a football school. The Lady Rockets team still made history with the first finals appearance in the school's history and it looks like the only way they can go from here is up towards bringing a championship back to the campus.