Journalism students particpate in zoo photo scavenger hunt
Hang on for a minute...we're trying to find some more stories you might like.
On Tuesday, students on the newspaper and yearbook staffs took a day trip to the San Antonio Zoo. In a twist to the trip, the staffs participated in a photo scavenger hunt.
The staffs were given a list of clues and had to adventure throughout the entire park to solve these clues through photography to win their prize.
"It was amazing," yearbook editor Makira Morrison said. "We had so much fun. We worked together to do what we needed to do to win."
Before the trip, both staffs divided themselves into nine groups. When they arrived to the park, they were given a list of 25 clues of animals and things they had to find.
"We ran like crazy," senior Carley Roduflo said. "We had to think on our feet. We also found aid from the zoo's staff."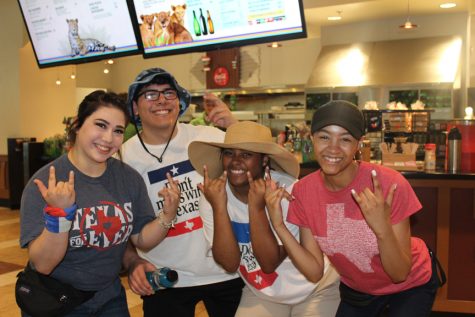 Morrison and Rodulfo's team won, which also include senior Shardae Russell and junior Joseph Hernandez.
"The trip was a success and it made me grow close to the team and the staff," Rodulfo said.
Especially for journalism, end of the year trips depend on the year's successes. Both newspaper and yearbook have to meet their deadlines for their respective publications throughout the year in order to earn the trip.