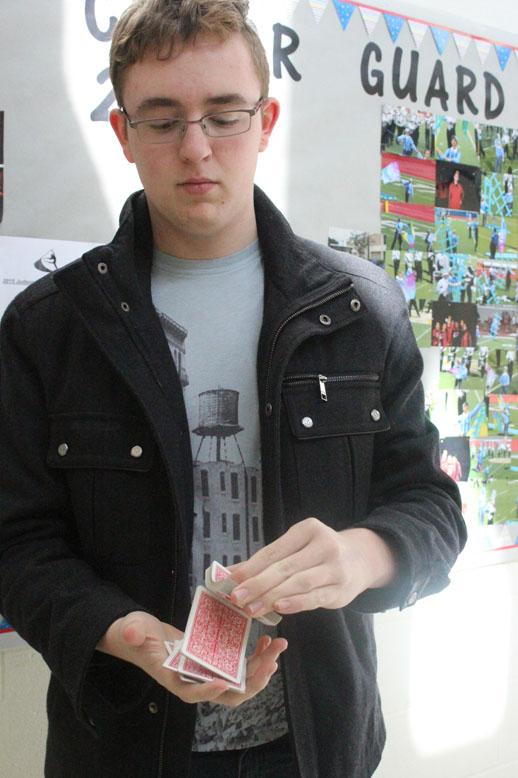 Claudia Quiroz
Freshmen Trayton Monju will bring you lots of joy. His story started when he was 6 years old, when his dad showed him his first card trick. From that moment on, magic became his hobby, and he loves showing others his talent.
''[Every] friend I meet, I attempt to do a magic trick. '' Trayton said.
Seeing people's confused faces gives him an internal joy. Changes in his audience's facial expression result in a fascinated feeling. This is a reason why he loves practicing his magic. He comes up with his own tricks, which are actually quite magnificent.
''They look so confused every time I show them a trick," Monju said.
Magic boosts his confidence, and gives him the opportunity to meet people. He is currently trying hard to learn a new set of tricks. Magic itself can change your mood and add a smile, which Monju loves to do.
''At first I get nervous, but it's a confidence booster," Monju said. "I had low self-esteem since 5th grade. It changed after I started performing."
Although he is a performer, he still gets nervous before showing a new trick people. However, showing his talent, like any performer, actually helps to calm him down. It's been a while since he actually has performed in front of a crowd, but he has gotten better over time.
''I didn't start performing much until the 7th grade,'' Monju said.
Somehow, Monju wants to incorporate magic into his future career, and hopes to pass it on to his children. Even if he doesn't do magic as a profession, it will always be a part of him.
Monju hopes to find some way that he can have the chance to participate with others and teach them new tricks as well.