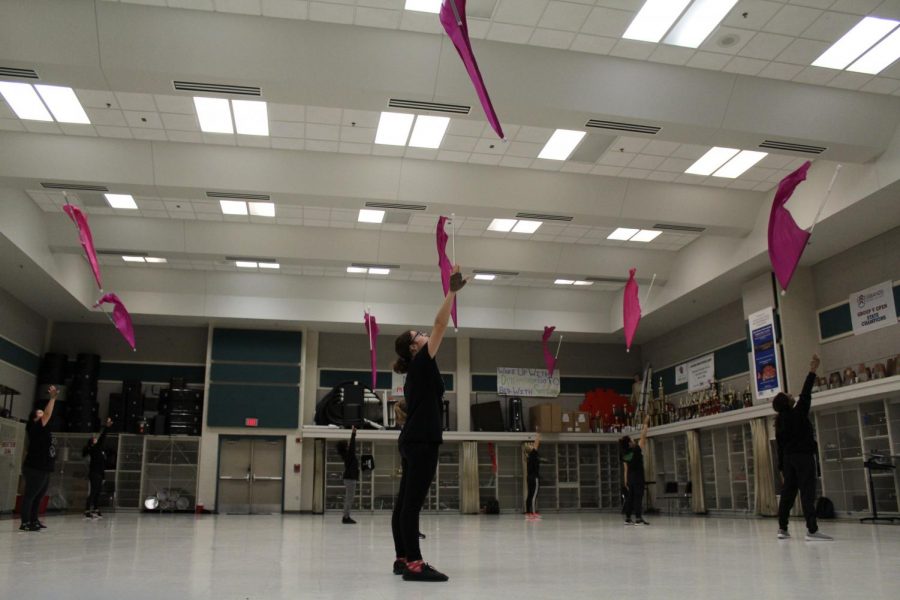 Emily Stein
This year, the band continued their success with a first place win at the Seguin Marching contest and fourth place overall at Yamaha Cup. These wins can be partially credited to a change in leadership within the color guard program.
Since August, Mr. Mark Istratie has tackled the task of adopting the role of director for the color guard program, with high hopes for what his new students will accomplish.
Although Istratie's color guard career began in high school, but it happened a little later than it does for most.
"I didn't start color guard until my senior year of high school. I did marching band for three years [and] I knew that color guard was something that I admired, [but] I was really committed to my instrument," Istratie said. "From there, I learned rifle first and then I had to spend a lot of time on flag because rifle was my primary thing. I had to catch up big time so my friend taught me the spent a lot of time with me teaching me things."
Straight from high school, Istratie was able to make a living on the activity he was passionate about. It would one day become his career.
"I had literally graduated the spring of 2006 and then the fall of 2007, so [not even] a year later, I started teaching," Istratie said. "I started working with the color guard and the year after that I was in charge of the [program]."
Though people may jump back and forth between ideas of their future, it was always clear that this was the path he would follow.
"Music was always a really big part of our family because my aunts and uncles were all professional musicians in Europe. So for me, it was always something that I knew I was going to do because that's what they did," Istratie said. "It was really easy and a straightforward path for me to know so [I'm] going to do music. It all just kind of made sense."
But even before color guard and band entered his life, Istratie overcame a unique kind of adversity.
"My childhood was somewhat difficult because my family immigrated here from Romania in 1987 and we had no relatives or anything. I was born a year after. My family came here with nothing and no knowledge of the language or anything," Istratie said. "From there, I grew up in Detroit and at the time it was really really rough. I was lucky enough to move, later in life, to a suburb of Detroit where I could be involved in music and things like that."
For Judson and Istratie, they found each other at the right time. The program was in need for new leadership and Istratie was looking for somewhere to direct.
"Since I've started teaching, I've taught at a lot of programs in Michigan and around the country as a guest so I had experience as a director in multiple programs that are of [Judson's] size. I knew that I wanted to make a move from Michigan and getting this job was kind of a combination of me seeking the job and Judson seeking me," Istratie said. "I had a phone interview and I came down here for a live interview and to meet the kids and so that was that. It happened very quickly."
Through his challenges in childhood, Istratie now faces a new set of moral challenges as an educator and in his personal life being taken seriously doing what he loves.
"A big challenge for me in color guard has been to stay true to my identity. I believe that every single kid is important and I believe that every single person deserves the chance to be in color guard. It's hard sometimes when you're doing a competition to stay true to a lot of those things and hold onto those values because the aspect of competition really puts a lot of pressure on you," Istratie said. "Not a lot of people know about [colorguard] so it takes a while to explain what exactly it is. When I'm dedicating so much time and effort, it's hard to justify making sacrifices in other places in my life."
The niche Judson Rocket experience has provided Istratie with not only an enjoyable challenge but an exciting place to work and create a show.
"I definitely enjoy Judson because it's so different than anything I've ever done. The energy in this school is different. The student body is different. The structure of this program is different. But I really enjoy a challenge," Istratie said.