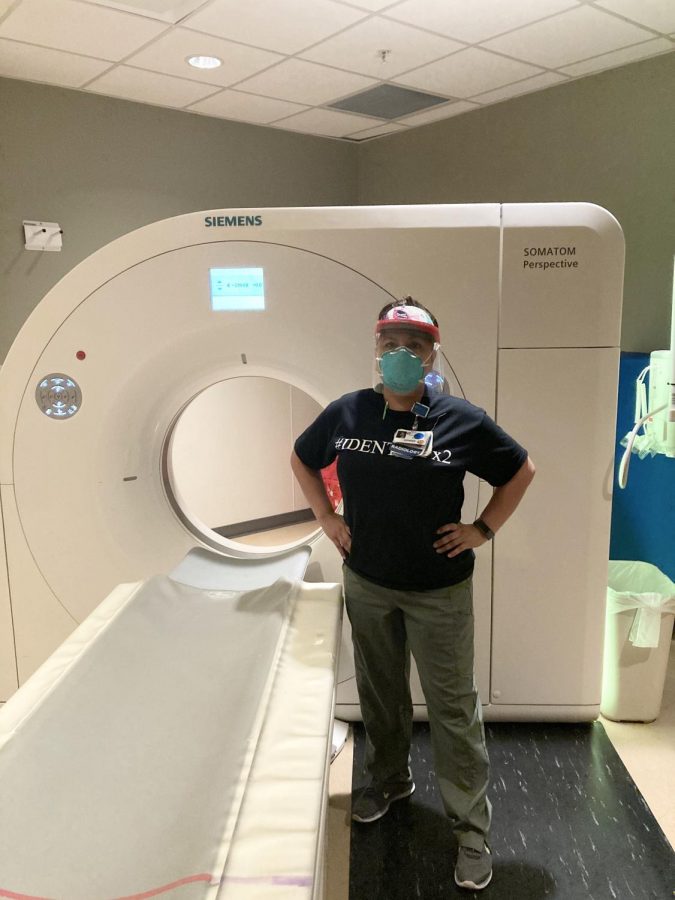 Mrs. Denise Aguilar, one of the campus' health science teachers and instructor over the radiology practicum, is on the frontlines of the war against COVID-19, seeing the impact this virus has caused our society and the healthcare industry.
She works part-time as a radiology technologist at Mission Trail Baptist Hospital.
"My hospital is one of the few that services the Southeast area of San Antonio," Aguilar said.
The virus has completely changed the way hospital employees are doing their job.
"All hospital staff is now required to wear masks the entire duration of their shifts, which can be 8, 12, or 16 hours long," Aguilar said. "When entering a COVID-19 positive or 'people under investigation (PUI)' rooms, we are required to wear an N95 mask, face shields, hair covers, shoe covers, gowns, lead shields, and gloves before entering the room."
The virus has also completely changed the way hospitals work, as a whole.
"Our hospital is no longer allowing visitors or extra people in the ER waiting areas. An adult must enter and stay alone and children are allowed with only one parent. Any persons entering the hospital are subject to temperature checks and are asked a series of questions to identify possible COVID exposure, this includes all staff members," Aguilar said.
One of the most heartbreaking things she has seen is a patient not knowing if they are going to make it through the virus.
"[The patient was] alone, scared, and crying because they didn't know if they were going to live through this virus. It is truly a heartbreaking scene," Aguilar said.
She's also seen the virus hit the staff hard.
"I have seen doctors, nurses, and other medical staff become overwhelmed with the rationing of personal protective equipment (PPE), dealing with the constant change in policies while putting their own safety at risk caring for COVID-19 patients," Aguilar said.
As we all try our best to navigate this crisis, she has important advice for students and the community.
"Please take this virus seriously, follow guidelines, and think about how your actions affect others around you. Being distant physically does not mean being distant emotionally, be sure to reach out to others via phone/ text / social media. If you are struggling with your current situation, there are people who want to help," Aguilar said.
Eventually, we will all get through this pandemic.
"I see that our distancing and hygiene practices have flattened the curve as we knew it would. The number of recovered patients is increasing and we are learning new ways to treat COVID patients. I have also seen unity in the world and an increased sense of appreciation for individuals who were not deemed essential before the pandemic," Aguilar said.
—–
If there are issues with this article, report it here.