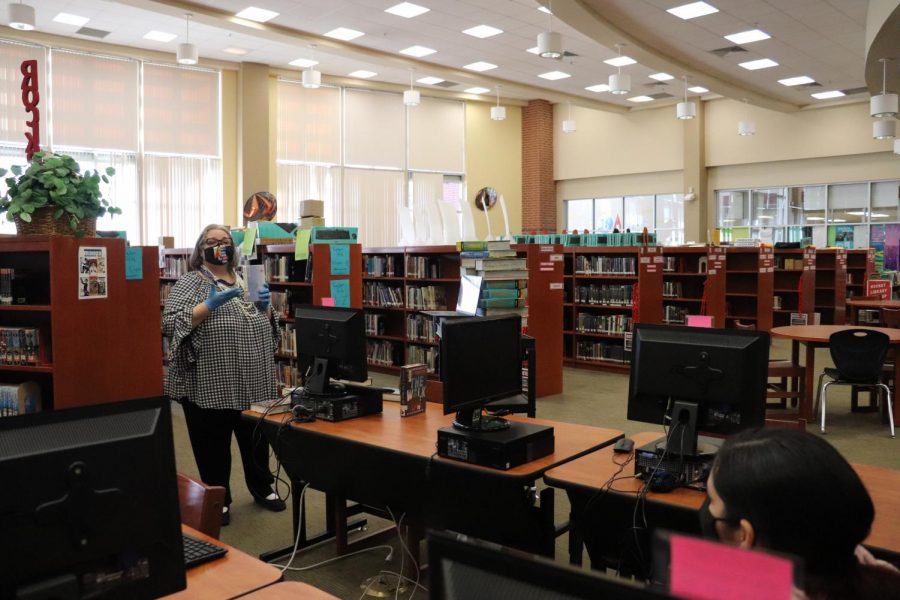 Mr. Cabrera
As we sat down for the interview, we were joined by English teacher Ms. Breanna Andrews asking about "Punching The Air," written by Ibi Zoboi about a boy who was wrongly convicted. That conversation was interrupted by receptionist Ms. Donna Mcmillion, asking about a Facebook post from a friend who was searching for a specific book.
It was evident that before, during, and after this interview that Mrs. Mariya Ortiz, the Judson High School librarian, was the go-to person for all things literacy on campus and more. Because of that, and her infectious personality, her commitment to the campus and students, and her unwavering drive towards bettering our library space on campus, she has been named this year's Distinguished Educator of the Year.
"Here (at Judson High School), it is truly an honor," Ortiz said. "I have been to a lot of places, and I know what good teaching looks like. Here, with an abundance of it, it's truly an honor."
Ortiz has been in education for 27 years, with 17 of those being a librarian. She came to Judson High School after spending a couple of months at Candlewood Elementary. Before coming to the district, she spent time at East Central ISD and helped opened Pruitt Library, which is a partnership with the City of San Antonio and Northeast ISD.
"She resoundingly stood out from everyone else," Principal Jesus Hernandez said. "During the pandemic, she has gone above and beyond, from doing home visits to her frequent readers to standing outside in front of the school for hours to help students. And she did everything without being asked to."
When she arrived on campus, her goal was to make the library space for all students to feel welcomed.
"The library's goal was to make it a place to feel like home," Oritz said.
She moved some furniture around to create the Rocket Reader's Cafe, a space in the corner of the library for students to come read and study, as well as drink coffee. She also created The LaunchPad, a creative space for students to use materials to create and elevate their school projects.
"As a poor kid, no matter how good my work was, I was that kid who didn't have the 25 cents for a poster board," Ortiz said. "I wanted to have this space available for all kids – it's about creating access and equity for our students."
One of the recent additions of literacy displays on campus, with the help and leadership of Assistant Principal Mrs. Kayone Carter, was to display books that have been published by former Rockets in the main hall.
"I think when people see Judson, they just think athletics. The truth is, Judson equals success – if you choose it," Ortiz said. "It is important that kids see that whatever their gift is, you can shine at Judson."
At the root of what drives her as a librarian and educator, she takes inspiration from a classic Disney movie – Lilo and Stitch.
"Ohana means family," Ortiz said. "And family means no one gets left behind."
She also took note from the book she was talking about with Andrews, as to what drives her as an educator.
"It's the idea of the butterfly effect – the smallest kindness lasts a legacy," Ortiz said. "I see something in you that you may not see in yourself. That can change the trajectory of a kid's life."
Especially with transitioning to virtual learning and a hybrid education model, from distributing laptops to the student body to spending hours of time after hours to assist students and teachers as needed, it is evident that Ortiz is incredibly deserving of this honor.
—-
If there are issues with this article, report it here.