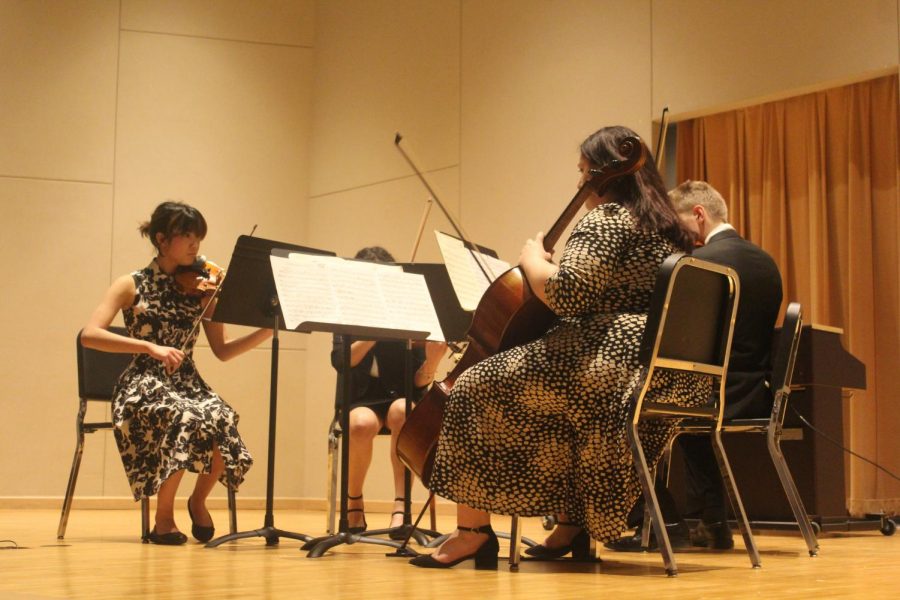 Kiela Hernandez
On March 6, 2018, the orchestra performed their end of the year spring concert, starting in the recital hall with the Solo and Ensemble pieces then later transitioning to the auditorium for the last songs.
"I felt good about it. I liked that we came together at the end and showed the orchestra as a whole.
I feel relieved but at the same time I'll miss orchestra," senior Guissell Mora said.
The recital hall was used for small ensemble groups to showcase their pieces that they are planning to play at state UIL Solo and Ensemble and also have an opportunity to practice performing and get nerves out.
"Since there are fewer musicians, there is a need for a smaller hall," orchestra director Mr. Sabo said.
Juniors Miaoyin Guan, Jakob Meza, Fronrich Puno, and Joshua Rodriguez performed the first movement of Simple Symphony which was anything but simple. It was a moving piece with soft violin sounds that meshed with the other instruments.
Next, sophomore Amber Guerra, who received first division rating and will be going to state in May, played her piece, Elegie, by memory, and was accompanied by a piano accompanist. It captivated the audience and left them impressed by the sophomores abilities.
Senior Destiny Mosqueda stood for her solo performance of Bach partita, a Bach piece, and ended on a graceful high note.
Then a quartet of sophomores, who included violinist Jaymes Edwards, violinist Chloe Bayani, violist Patrick Coder, and cellist Amber Guerra performed String Quator and String Quartet. Both songs were peaceful and lively that showcased the ensembles' talent.
After this performance, the audience transitioned to the auditorium and applauded at the recognition to the seniors. The slideshow was put together by Guerra and a rose was given to each one of the seniors. Mr. Sabo gave a speech to the class of 2018.
"May music stay in your hearts forever," Sabo said.
The chamber orchestra took the stage playing two tunes, Avatar and the Pirates of Carribean, which amused the audience as the director placed a pirate hat for the second song.
The Honors orchestra took the stage to played Illusions and Pastoral which had a beautiful ending
"I liked it a lot," senior Joshua Rodriguez said.
Then concert orchestra joined honors on stage and performed The Magical World of Pixar, which included some favorite tunes like You got a friend in me and the Incredibles theme.
After this, all the orchestras joined together to play Game of Thrones. The orchestra will be going to UIL on April 17, 2018.
"My favorite song to play was Game of Thrones because it really brought the orchestra together more than I have seen it before," Guerra said. "I am looking forward to a successful UIL season now that the last concert is over."