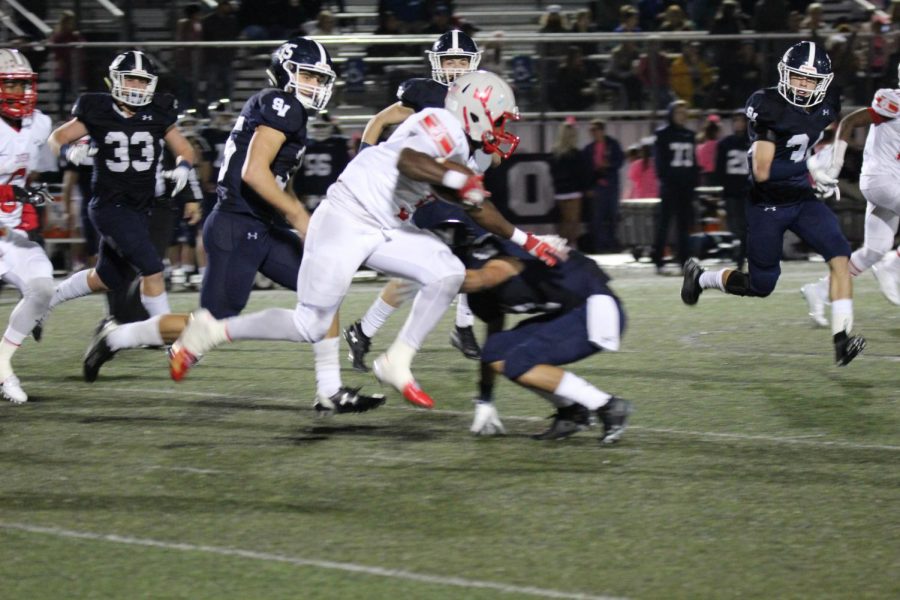 Miracle Branscumb
On Friday, October 19, 2018, the Judson Rockets (6-0) faced off against Smithson Valley (2-4).
This game had playoff implications for the Rockets but was a redemption game after losing to Smithson Valley last season, 40-37 in overtime.
In the first quarter, the Rockets established pace by scoring the first touchdown in the opening minutes from quarterback Mike Chandler on a ten-yard touchdown run, making it 7-0. Soon after, Smithson Valley was unable to begin their offensive possession after a blocked punt from defensive end Corey Parks, running it back for the touchdown. Smithson Valley was unable to respond, ended the quarter with Rockets leading 14-0.
In the second quarter, despite Smithson Valley making some improvements in offense, the Judson defense amped up the pressure. Two interceptions were made in the second quarter alone against the Rangers. Despite being near the end zone on occasions, they were unable to score. Judson offensive continued to flow well amidst the weather with a 68-yard touchdown pass thrown by Chandler to running back senior Sincere McCormick, completing the only touchdown of the quarter. The Rockets ended the half leading, 21-0.
In the third quarter, the pace of Smithson Valley was still wavering, while trying to create defensive stops to get the offense going. Yet, the Rockets were still able to score with running back Rashad Wisdom rushing for 35 yards, making the score 28-0. The score remained for the rest of the quarter.
In the fourth quarter, with penalties plaguing the Rockets throughout the game, eventually caught up with the offense unable to convert on plays. However, luckily for Judson, the spark was never there for Smithson Valley. They did not score a single point in the fourth. The game ended with Rockets winning, 28-0.
The Rockets compete against Canyon this week on Friday, for the annual Pink Out game.