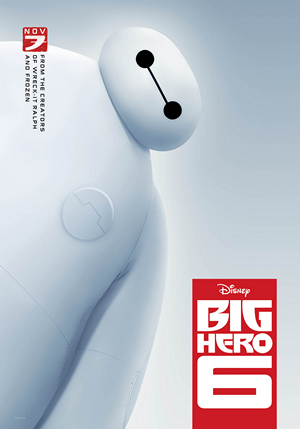 Walt Disney's Big Hero 6, based on the Marvel comic, topped the box office with $56.2 million on its opening weekend. Not only is this Walt Disney's biggest weekend debut for a non-Pixar film outside of Frozen, but it is also Walt Disney animation's biggest stand-alone weekend ever.
Big Hero 6 is an action packed comedy- adventure about the bond between the young genius Hiro Hamada, and plus-sized inflatable robot Baymax in their adventure to save the city.
Big Hero 6 stars Scott Adsit as Baymax, Ryan Potter voicing Hiro, T.J. Miller as Fred, Jamie Chung as Go Go, Damon Wayans Jr. voicing Wasabi, Genesis Rodriguez as Honey Lemon, and James Cromwell is Robert Callaghan. It was directed by Don Hall and Chris Williams, and produced by Roy Conli, John Lasseter, Kristina Reed and Bradford Simonsen.
Hiro is a 14 year-old prodigy that graduated high school at the age of 13. A year after graduating, participating in robot fights is all he does. One day, his older brother, Tadashi, shows him the robotics lab at his college. When Tadashi is killed in a fire, grieving Hiro takes comfort in Tadashi's invention – a kind nurse robot named Baymax. When Hiro discovers that his brother's death was not an accident, he decides to go after the culprit. He also makes a few upgrades to Baymax giving him up to crime-fighting abilities.
He also receives help from Tadashi's best friends, including adrenaline junkie Go Go Tomago, neat freak Wasabi, chemistry whiz Honey Lemon, and fan boy Fred. Upon finding the culprit, Hiro discovers shocking news. The culprit shockingly was Robert Callaghan, director of the college Tadashi attended. Callaghan's motive was to get revenge on his rival college for taking the life of his daughter. Hiro, with the help of his friends, discovers that Callaghan's daughter is not really dead. When Hiro attempts to save Callagan's daughter, Baymax starts malfunctioning. Hiro and Callaghan's daughter make it but sadly Baymax does not.
Hiro decides to go back to college and he also ends up rebuilding Baymax. Transforming themselves and Tadashi's best friends, into a band of high tech super heroes called "Big Hero 6."
Ryan Potter plays the role of Hiro as if he was Hiro himself. Even when Hiro is in his darkest time he has his friends and Baymax there to help him. He is a smart 14 year-old that graduated high school at the age of 13, a role model to kids.
If you're into comedy adventure-movies from Walt Disney, then this is the movie for you. With a group of strong character acting and a good approach into Marvel Comics setting, this comedy/adventure film a must see for children and even adults. Walt Disney has made yet another amazing movie. This film was very enjoyable, as it has funny comedic scenes, action scenes and sad scenes. All together this movie is one of the best Walt Disney movies so far.