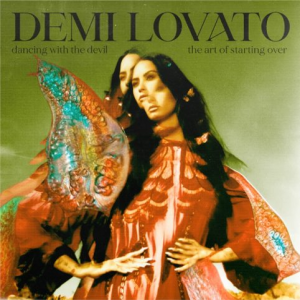 Demi Lovato's seventh studio album Dancing With The Devil… The Art of Starting Over ends her hiatus after her hospitalization in 2018 due to a near-fatal overdose. It is released as an accompanying piece to her YouTube Originals documentary of the same name, in which she recounts her journey from the years leading up to 2018, and her experiences afterward.  
With 19 songs, the album, too, provides an emotional and deep look into what she experienced, especially with the song titled /Dancing with the Devil/, and its music video. 
The first song, titled Anyone, begins with a simple piano melody, with her vocals being added shortly after. The song, having been written and recorded just days before her overdose, details how no one was listening to her. She begins her lyrics with, "I tried to talk to my piano / I tried to talk to my guitar," which would imply that she made an attempt to make music as a coping mechanism. She sings, "Tired of empty conversation / 'Cause no one hears me anymore." She continues with the chorus, singing, "So why am I praying anyway? / If nobody's listening / Anyone / Please send me anyone / Lord, is there anyone / I need someone." Her powerful vocals convey such large amounts of emotion, with just a piano melody backing her meaningful lyrics. 
Anyone also served as the song she sang for her first performance since 2018, during the 62nd Grammy Awards. 
Dancing With The Devil is the second song, accompanied by a music video that shows a recreation of the night of her overdose and her hospitalization. The lyrics detail how close to death she was, especially with lyrics reading, "I was dancing with the devil, out of control / Almost made it to heaven, it was closer than you know." Her strong, powerful lyrics make another appearance as she details that she told others she was okay but was lying — that she thought she knew her limit, and that she could quit, but eventually "fell down on my knees." Especially paired with the music video, Dancing With The Devil provides an emotional recount of her experience in 2018. 
The fifth song is titled The Art Of Starting Over. It comes after a 26-second piece titled Intro. It is only Lovato speaking, where she says, "Let me take you on a journey / One that sheds the skin of my past / And embodies the person I am today." 
It begins with a more upbeat melody, contrasting with the past songs that were mostly piano and vocals. She sings, "Guess I'm mastering the art of / Starting over / Starting over / New beginnings can be lonely / Thank god I got me to hold me." The last lyric implies learning the feeling of self-love. She repeats, towards the end of the song, "I let the darkness (out)." This piece shows how she started a new beginning and started over. 
The ninth song, Met Him Last Night, features Ariana Grande. It starts out with a string melody, with synth layered over it. As her vocals are added, it is just the synth, creating an intriguing sound. Lovato sings that she met the devil last night, and she continues with, "Seemed kinda funny / Yeah, he's kinda my type." During the second half, they sing, "No one ever thought I'd be the one to fall / Watch me bounce before I give you my all." 
15 Minutes is the 14th song. It is presumably about her ex-fiancee, Max Ehrich. She starts her lyrics with, "Change your colors so fast / Tried to turn my friends into friends of the past," implying that whom she is singing to tried to get her to not be friends with people she knew. She continues in the chorus with, "'Cause you were looking for 15 minutes, yeah / Now you got 15 minutes, yeah / Packed your stuff, you can come and get it, yeah / Ain't goodbye but it's good riddance." She continues to sing that it should be considered an honor that she even bothered to give them the time of day, and time in the hourglass is ending. 
The 19th and final song is titled Good Place. It is composed of a subdued guitar melody and Lovato's vocals. It represents where she is now, and that she is now "in a good place," that it "took a while to feel this way." She sings that she no longer has to save face because she is now in a good place. This song serves as a perfect closing to the album. It begins with heavy songs detailing her experience after overdosing, and ends with a song showing that she is now in a better place and that she has grown since, that she has grown through "bad situations."
This album is arranged in such a way that tells such a raw story. Separated with the piece titled "Intro," it is in two parts. The first three songs detail what she had what through, and the second part, the part after "Intro," shows her journey of growth and recovery following 2018. Her story is told in such an intriguing manner, and the album is definitely worth a listen. The accompanying documentary, as well, is worth watching.
—-
If there are issues with this article, report it here.