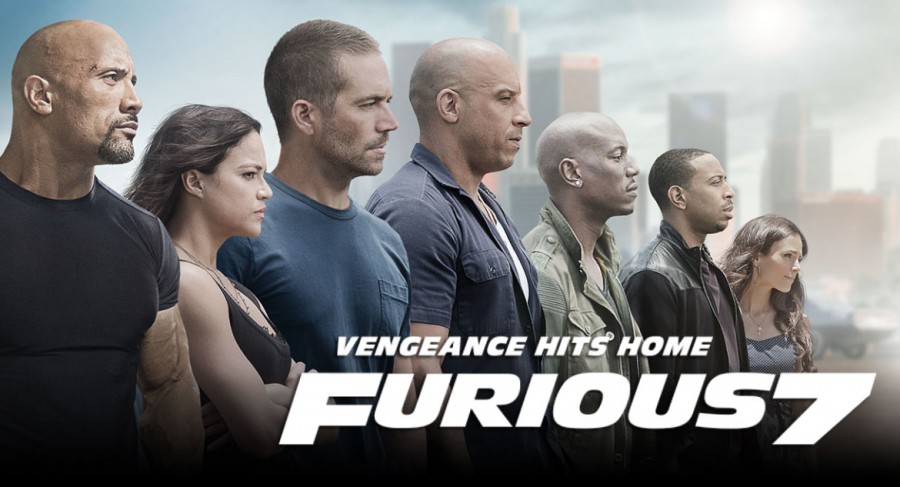 Furious 7 is the most recent film in the Fast and Furious series. The film was released on April 3, 2015, and grossed $143 million in its opening weekend.
Furious 7 picks up right where Fast 6 left off. The gang had conquered their enemy Owen Shaw. They now have clean names, living a life of peace and harmony, in their original California home from the first film.
At the beginning of the movie, Dominic Toretto, played by Vin Diesel, gets a call from Japan, where his old friend, Han, played by Sung Kang, decided to settle down. Owen Shaw's older brother, Ian Shaw, played by Jason Stathem, was on the other end. Shaw delivered his message – a bomb simultaneously blew up Toretto's home. In the same scene, Han is dying behind him due to a car crash caused by Shaw. He is seeking revenge for his brother's death.
Agent Hobbs, played by Dwayne "The Rock" Johnson, has all of the information Toretto and his team need to fight back. The film is about their journey to get Shaw, and to also retrieve God's Eye, a hacking software that allows anyone to find anyone around the world.
The movie also portrays the complicated relationships with the main characters. Toretto is back in a relationship with Letty Ortiz, played by Michelle Rodriguez, who had been in an accident that temporarily wiped out all of her memory. Mia Toretto, played by Jordana Brewster, is in a relationship with Brian O'Conner, played by Paul Walker, who must leave Mia and their son in hiding, while he and the team venture off to complete a mission.
Furious 7 was a phenomenal movie that I recommend everyone should see. Even people who haven't seen any of the films in the series should at least watch this one. Anyone who follows or has just heard of the series will be touched by the raw emotion expressed through every character in the film. There were so many scandalous and surprising turns that can't really be explained without ruining the film's plot. There are gasps, laughs, and tears from every audience member.
Due to Paul Walker's passing half way through production, the producers asked his brothers, Cody and Caleb Walker, to help fill in. There are many parts where his brothers are noticeable, and other places where he steps in seamlessly.
Furious 7 has become a trending phenomenon for its touching tribute to Paul Walker. It shows clips from each of The Fast and Furious movies he was previously in. It shows how he grew as a character in the movies, and also as a person in the eyes and hearts of fans, cast, directors, and all who were part of production.
It was all a subtle reminder that he really is gone, in reality and in film.
Furious 7 has a theme of family, and is really shown in the scene where Dom says, "I don't have friends. I got family".
Diesel has said that The Fast and Furious series is not over. With an interviewer on Popcorn Talk, shown in the previews in select Regal Theatres, Diesel is asked if Furious 7 is the best of the series. He responded by saying, "Paul and I, after every premiere, would take a moment away from everyone. We would sit there, just the two of us, and stare at each other in silence. He would always say 'the best is yet to come', and I just hope that after I see the final cut of Furious 7, I will hear him in some way say that this was the best one."
Just like Diesel anticipated, Furious 7 is the best one yet.