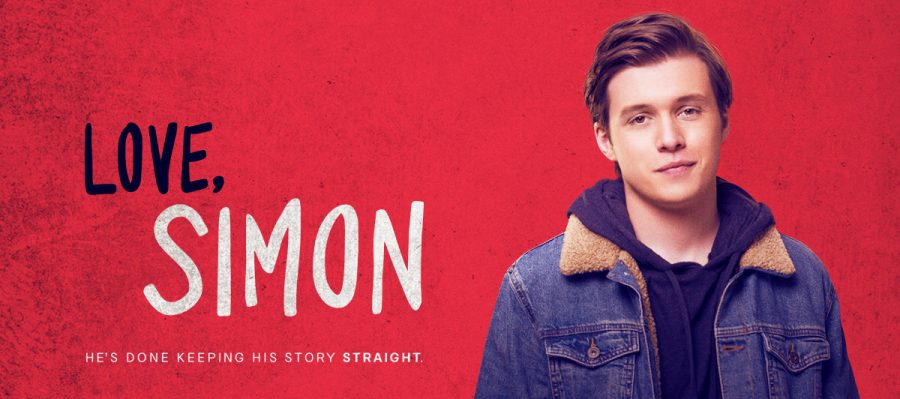 Love, Simon premiered in theaters on Thursday, March 15. The highly anticipated movie, based off of Becky Albertalli's novel, Simon vs The Homosapiens Agenda, is about "…a perfectly normal guy who is just like you. Except, of course, he has a really big secret."
The movie begins with Simon, played by Nick Robinson, telling you about his average life. He has amazing friends, a great family, and is just like the rest of us. But no one knows he is gay.
Then he meets Blue. Blue is an anonymous writer from a social media site and has just revealed that he's gay to the entire school. When Simon contacts Blue, he connects in a way that he could not do with anyone else.
Both of them let down their guards enough to get to know each other and express what they feel individually feel as they keep this secret from everyone. Soon, Simon realizes that he is falling in love with his mysterious pen-pal.
However, before anything can come to be, the emails between Simon and Blue get copied by Martin, played by Logan Miller. He blackmails Simon, telling him that he will not release them as long as Simon helps him get a date with Abby, played by Alexandra Shipp.
Suddenly, Simon has to weave Martin into his group of friends and get him close to Abby or risk the exposure of his secret and losing Blue's trust. In doing so, Simon creates confusion and mayhem among his friends.
It is at Christmas that everything starts crashing down. As the truth spills out about everything Simon has done and why, he is left feeling alone and broken. All his friends have abandoned him, including Blue.
His selfish actions created lots of pain and disappointment. However, did he really mean to hurt them? In his world, he had no idea what the consequences would be, no idea how his life would change. He simply did not want to lose the one person who understood him.
Even though it seems like it is too late, Simon does what he can to repair his relationships. He ignores the taunts and the jabs and focuses on what he needs to do.
Simon then sends a message of his own to the world. He accepts who he is and asks for another chance with Blue. He tells him to come and find him and give him a shot. This is when the audience finds out who Blue is.
Love, Simon is an epic whirlwind-romance movie. It takes you through the journeys of learning who you are and all the doubt, fear, and heartbreak you encounter along the way. This film is a heart-racing tale that is easily hidden into our everyday life, and one that should not be missed.