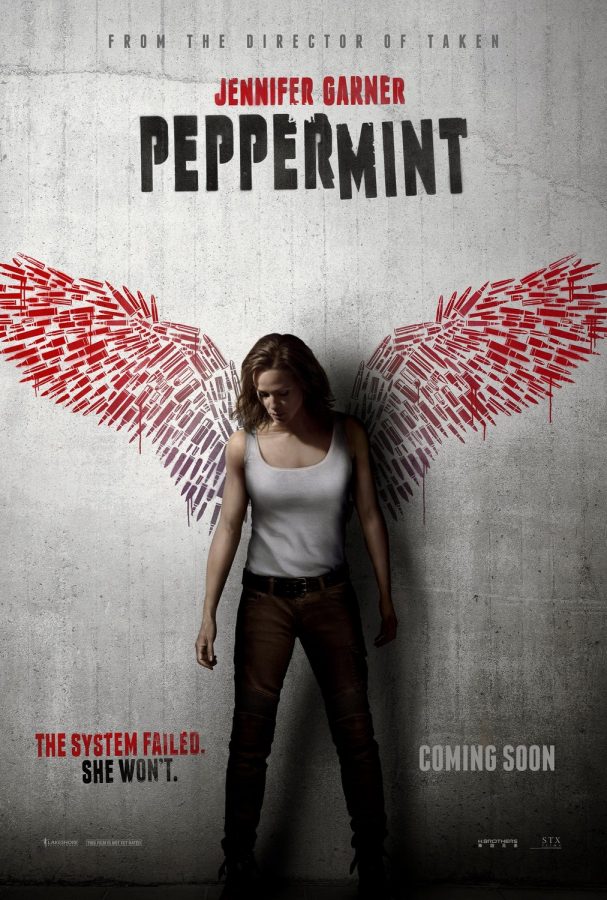 Peppermint was released in theaters on Friday, September 7. It is a classic revenge movie that begs for hope and understanding from its audience.
Riley North, played by Jennifer Garner, is a widow who saw both her husband and daughter murdered at the Christmas carnival.
When she tries to put away the men who killed her family, her allegations are not able to be held in court, thanks to the unjust lawyers and corrupt judges.
Angered by the lack of justice, Riley escapes the police's grasp and goes into hiding for several years.
When she returns to the city, she finds and captures each of the shooters that she identified in court as the men who killed her family.
The police are running around to find who killed these men, while FBI agent Inman, played by Annie Ilonzeh, is more concerned with the timeline that the event has occurred around – the five year anniversary of the deaths of Sam and Carly North, played by Tyson Ritter and Cailey Fleming.
As the movie unfolds, Riley has gone after everyone she felt wronged her: lawyers, judges, even the leader of the cartel that ordered the hit on Sam.
Several times, she manages to destroy the cartel's plans and each time their leader, played by Juan Pablo Raba, gets more and more frustrated. He orders his men to find and kill her but each time they fail.
Coming to the end, surprises are revealed that the audience could see slowly unraveling throughout the entire film. John Gallagher Jr. plays detective Carmichael, who is shown to be a traitor to the police as the cartel's inside man.
A final standoff between Riley, the police, and the cartel ends the movie with Riley finally getting the justice she fought so hard for.
However, now that she is caught, she has to pay the price for her crimes…..Or does she?
Peppermint is a movie about the truth, hope, and what a mother's love can inspire. There is nothing more important to a mother than those she cares for. If you think about messing with one's family, this movie might cause you to think twice.