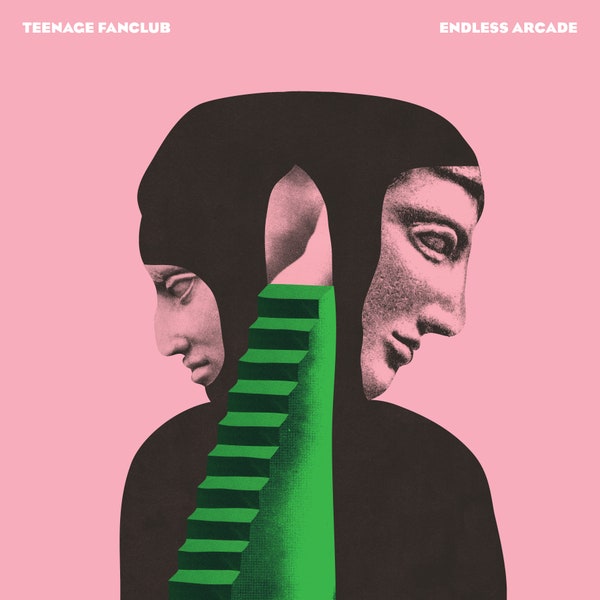 Scottish alternative rock band, Teenage Fanclub, released their eleventh full studio album, Endless Arcade on Friday, April 30. This album is significant since it is their first since losing their co-founder in 2018. The name of the album derived from the co-founder of the band, Raymond McGinley's song of the same title. McGinley says he envisioned an endless arcade to be "a city that you can wander through, with a sense of mystery, an imaginary one that goes on forever." 
The opening track of the album, "Home" is the lengthiest song on the album, running for seven minutes. This song brings forth a sense of passing through the stages of life and acknowledging, however, not fearing, one's mortality. The song has a repetitive beat after the chorus and a very melancholic tone hidden in the lyrics. A beautiful way to open a long-awaited album. 
The second track on the album, "Endless Arcade," represents the album as a whole, considering the title share. One line repeated throughout this song was, "don't be afraid…" The band mentions life, love, and lies on this track, singing along to another mellow rhythm. However, it's actually a quite wholesome track, suggesting that you shouldn't be afraid of anything. The song makes you feel slightly safe while listening to it. The sense of wellbeing it imparts makes it, in my opinion, one of the best songs on the album. 
Even though the fifth song on the album, "The Sun Won't Shine on Me," is one of the shorter tracks, it didn't skip a beat. "We had love that I thought was forever, but it traveled 180 degrees," a lyric that a lot of people can relate to nowadays with the modern complications of love and relationships. Singing of love turning its back on you, even when you felt it would last forever, suggests that nothing lasts forever. An amazing addition to this musical trip down contemplation lane. 
"In Our Dreams," is the seventh track on the album, and it has a more "rock-like" opening than most of the album. The band sings of how your dreams can be an escape, allowing you to forget about what you've been through, or even change your memories to your own liking. This is one of the only songs on the album without an almost sorrowful rhythm, its more upbeat and positive. This song nurtures your soul with its message of hope, the power to escape harsh reality, and ultimately control your dreams.  
The second to last song on this album, "Living With You," gives off a strong love song vibe. "And so I wait in hope, one day that the tide will turn. I love you till I cease to be," the band reminisces on lost love, wishing circumstances could be different. Honestly, this may be the most relatable song on the album, for a good percent of the population has surely had their own relationship woes. Other than the obvious sadness hidden in the lyrics, this song has a warm and comforting rhythm, the words practically wrap around you, blanketing you with your emotions. 
All in all, this album was certainly a success. Every song had a lovely rhythm, whether it be melancholic or upbeat. And each song had a deep and true meaning hidden within the lyrics. I would absolutely recommend this album, even if alternative rock music is not your usual genre of choice, because, believe it or not, it was a truly enjoyable listening experience that the open-minded music fan will embrace.
—-
If there are issues with this article, report it here.