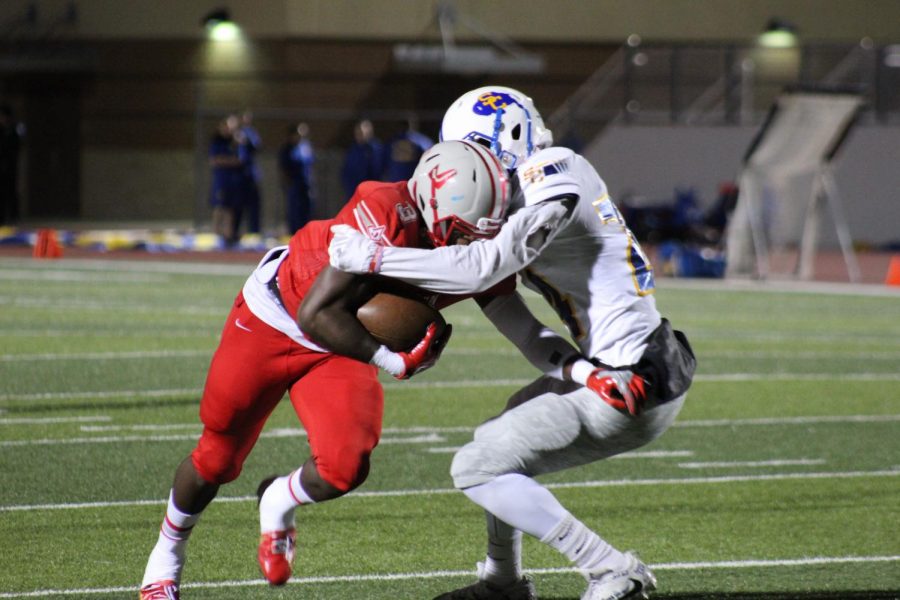 Justin Lopez
On Friday, November 9, the Judson Rockets (9-0) faced off against the Clemens Buffaloes (6-4) for the last regular season game and the annual senior game.
In the first quarter, Clemens started off the game with an early touchdown run, finding a hole in the Judson defense. Clemens defense mimicked the same energy with an early fumble. Yet, Judson quickly began to awaken, with a five-yard touchdown run by quarterback Mike Chandler, evening the score 7-7. A quick interception to the Clemens offense was then caused by cornerback Mike Washington. With both defenses locked in, the quarter ended unchanged, 7-7.
In the second quarter, Clemens energy may have been high but was not matching Judson's production on the offensive end. Running back Sincere McCormick dominated in the quarter with back-to-back seven-yard touchdown runs, pushing the lead 21-7. McCormick also received and scored a 24-yard touchdown pass from Chandler, furthering the lead 28-7. Clemens had no response and Judson ended the half leading, 28-7.
In the third quarter, Clemens energy felt in the first quarter had dissipated heavily. They were simply unorganized defensively and seemingly unmotivated offensively. On the other hand, Judson was being highly effective. A seemingly broken play by Chandler was revived by a 12-yard touchdown reception from wide receiver Amarea Bailey-Davis, making it 35-7. Chandler continued to be an effective quarterback with a three-yard touchdown run, raising the score and ending the third quarter offensive points 42-7.
In the fourth quarter, Judson's defense ended up keeping Clemens to a meager point total of seven points, with no offensive gains after the early first quarter minutes. However, even with starter pulled, Judson still provided the optimal offense with cornerback Darius Dean rushing 22 yards for the touchdown and scoring the final points of the night. The final score was 49-7, with the Rockets completely dominating.
Rockets completed the year as the undefeated district champions, with seniors Demarvin Leal, Rashad Wisdom, and McCormick leading the team through tough games throughout the season.
"It's really unbelievable. All four years have passed by crazy fast," Leal said. "I'm just glad we were able to end this regular season undefeated and district champions for the first time in a decade."
Nonetheless, the season was thoroughly memorable for the majority of the players.
"All the hard work we put in with each other, with a lot of us being with each other since middle school. All the blood, sweat, and tears poured into it," senior Marcus Harmon said. "It was a long journey, but it was worth it. Undefeated district champions – it's truly a beautiful feeling."
The Rockets will face off in the first playoff game at home on Friday versus Hays High school.