Seniors Samari Crane and Zoe Lewis win Homecoming King and Queen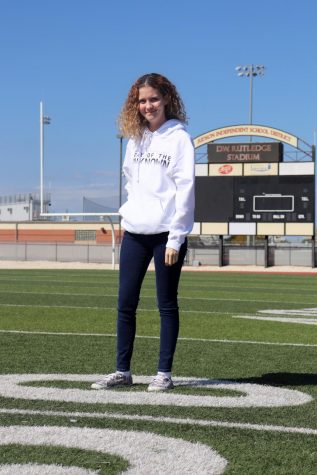 More stories from Camille McWhirter
What is homecoming without a king and queen?
On October 11, seniors Samari Crane and Zoe Lewis were crowned Homecoming King and Queen during the football game against New Braunfels at D.W. Rutledge Stadium.
Traditional, part of winning king or queen is campaigning. However, Lewis didn't think much was needed, nor did she think being crowned was expected.
"I really didn't want to campaign, to put many posters up. If people like me, they're going to vote for me. So, I didn't want to do too much," Lewis said. "A lot of people backed me up for this, a lot of my friends. I wasn't expecting it."
Crane thought similarly – not expecting to win.
"I didn't think I would win. I was just hoping that everybody got a fair chance," Crane said.
Though it may not have been an important goal met for Lewis, someone else saw it as so much more.
"Well, this wasn't something too major to me. But I know to my mom it meant a lot. It made her really happy," Lewis said.
Winning king and queen might not have been a major goal for these two seniors, but that doesn't mean it negates the positive feelings and happiness afterward. The two will return next year to hand off the crowns to next year's winners.