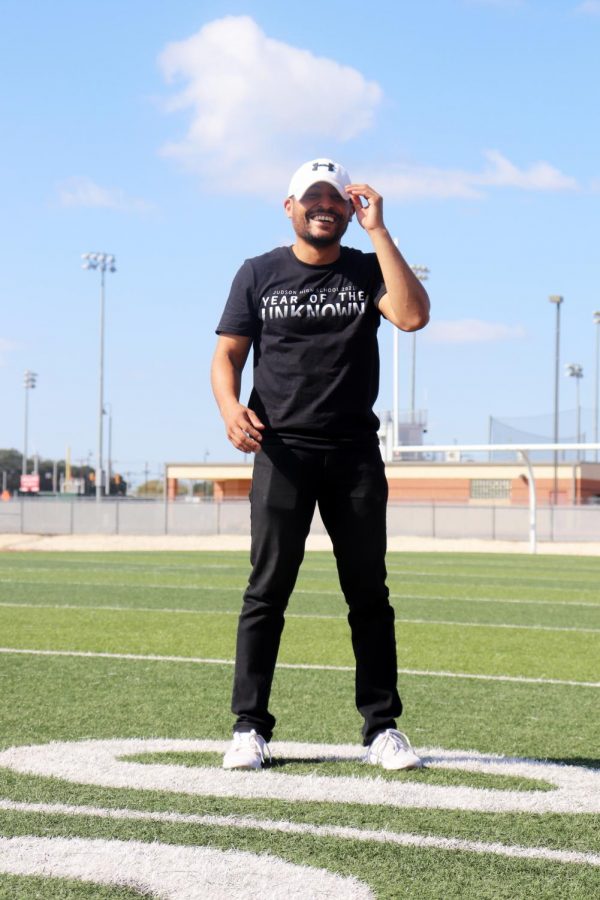 Mr. Pedro Cabrera, M.A., CJE is the publications adviser for Judson High School. He advises
The Fuel
student newspaper, the school yearbook,
The Rocket
, and oversees all social media for the campus. Born and raised on the west side of San Antonio, Cabrera is the child of two Dominican immigrants. He attended Texas State University, graduating with a BA in Communication Studies in 2011.
After teaching in the Aldine Independent School District in Houston, Texas, he was offered a position at Judson High School. After a year of teaching speech at Judson, he took over the journalism program for the 2014-2015 school year. He graduated with his Masters of Arts in Communication Studies from Sam Houston State University in December of 2015 and is currently working on his Doctor of Education degree from Walden University.
He is an avid biker and lover of all things Whataburger. He is currently entering his 10
th
year in education.
If you wish to contact Mr. Cabrera, you can email him at 
[email protected]
, or call Judson High School at 210-945-1100.
Mr. Cabrera, Adviser
Jan 20, 2021

In his first year teaching, Coach Sheawn Bedford adjusting to virtual learning

(Media)

Dec 11, 2020

Number of students failing dramatically increases

(Media)

Dec 04, 2020

Agriculture program hosting the first Judson Agricultural Exposition

(Story)

Dec 01, 2020

The unheard voice of the public health crisis: the school nurse

(Story/Media)

Nov 19, 2020

Mrs. Mariya Ortiz, librarian, awarded Distinguished Educator of the Year

(Story/Media)

Nov 04, 2020

Creating a yearbook this year will be difficult

(Media)

Nov 02, 2020

Mrs. Kayone Carter leads initiative to gather books published by alumni

(Media)

Oct 15, 2020

This election is the first for many seniors

(Media)

Oct 12, 2020

COVID-19 should've brought us together

(Media)

Oct 02, 2020

Dance adjusting to new rules

(Media)

Sep 03, 2020

Teachers adjusting to virtual learning

(Media)

Aug 09, 2020
Jul 09, 2020

To the first-year teacher…

(Story)

May 07, 2020

Mrs. Denise Aguilar's first-hand experience with COVID-19

(Story)

May 06, 2020

Ms. Laura Poling named new head band director

(Story)

Apr 30, 2020

District librarians start virtual book clubs for adults and teens

(Story)

Apr 10, 2020

Mr. John Torres, former football coach, passes away

(Story)

Mar 08, 2019

New Voices bill introduced; aims to give student journalists full free press rights

(Media)

Feb 21, 2019

Two wrestlers headed to state tournament

(Story)

Jan 23, 2019

Dance department moves to combine Galaxies and Starlites, create new dance team

(Story)

Jan 23, 2019

Coach Theresa Urbanovsky and Mr. Glenn Howard win Spirit of Judson Award

(Story)

Jan 22, 2019

Mr. Travis James Mitchell, original Rocket Man, passes away

(Story)

Dec 18, 2018

Mr. Larry Bailey awarded One Diamond Membership in the National Speech and Debate Association

(Story)

Nov 09, 2018

Freshman football ends season undefeated

(Story)

Oct 09, 2018

Ms. Lauryn McCarthy nominated for the H-E-B Excellence in Education Award

(Story)

Oct 03, 2018

Senior Kyra White commits to the University of Southern California

(Story)

Sep 28, 2018

New Voices movement aims to give student journalists full free press rights

(Media)

Sep 07, 2018

Ms. Kayone Carter returns to Judson as a new assistant principal

(Media)

Sep 08, 2017

Junior Kyra White ranked by ESPN

(Story)

Sep 02, 2016

Athletic booster launches GoFundMe campaign for new football sideline headsets

(Story)

Apr 29, 2016

Sophomore Isamary Aquino wins boxing tournament, invited to Olympic Training Center

(Story)

Apr 21, 2016

From the eyes of the president

(Media)

Apr 14, 2016

Freshman Nathaniel Cullors appears on NBC's Little Big Shots

(Story)

Apr 13, 2016

Freshmen Cameron Jones given scholarship by College Choice Today

(Story)

Mar 03, 2016

Longest running Project Graduation in the state in jeopardy

(Story/Media)

Nov 20, 2015

Judson publishes first student newspaper in nearly five years

(Media)

Feb 11, 2015

Chick-Fil-A Steps Up For Third Rocket Pride Award Luncheon

(Story/Media)

Feb 11, 2015

Efforts Begin For Successful Project Graduation

(Media)

Feb 11, 2015

Students Offered A Range of Career and Technology Classes

(Media)

Dec 03, 2014

Sales Week Implemented To Market The Yearbook

(Media)

Dec 02, 2014

Second Group Of Students Acknowledged For Their Contributions

(Story/Media)

Sep 12, 2014

Grab A Bucket of Ice

(Media)

Aug 15, 2014

The Fuel Is Live!

(Story/Media)