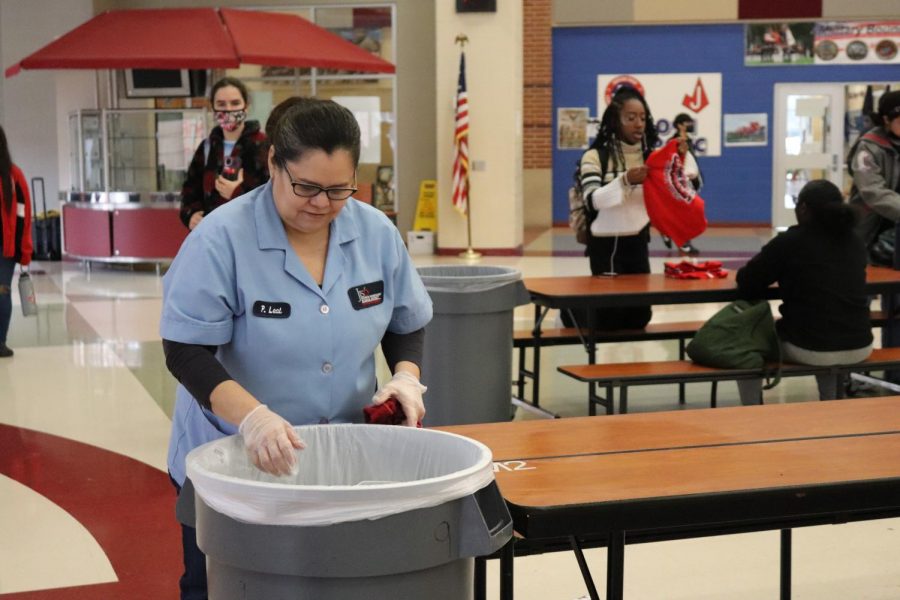 There's no denying that this school year has been difficult for education.
This is especially true for our custodial staff.
On a day-to-day basis, we can count on this staff to take care of the cleanliness of this school. Especially during the Devious Lick TikTok challenge, it put a huge strain on the department.
Although faced with difficult inconveniences at times, they managed to come in with a smile and efficiently get the job done. 
Mr. Rudy Rodriguez has been working for the district for 23 years. His day-to-day hustle consists of trying to keep the bathrooms clean and keeping up with the school at all times. However, with vandalization and toilet clogs, this made the job twice as much work… and money. 
"I'll put it to you like this – if you owned a home and you had to replace something, it's gonna cost you, right? You replace it and then an hour or two later, it breaks again and you have to replace it again. It costs money and it's hard to keep the school sanitary while making sure the kids and teachers have what they need [because it costs]," Rodriguez said.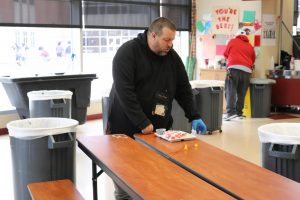 Sometimes, teenagers fail to realize how their actions can impact a person's day or usual routine. What may seem to be a harmless joke can end up being impactful and expensive. 
"Everything's about money. These things cost to be ordered. Not only that, we have to order them, then wait, then order, then wait. For us, being the ones responsible for replacing these items, it shows the lack of respect and it greatly hurts to see these things going on," head custodian Victor Gomez said. 
Not only do these challenges impact the work having to be put in, but they also impact the comfortability of students. By vandalizing, we ultimately end up cheating ourselves by having to wait to use the bathroom or walk to the other side of the school to find a working one. 
"This is my job and I love it. Of course, at times I get tired, but whatever I can do, I do it. It makes me upset when I see the children that have nothing to do with the mischief being penalized," Ms. Patricia Leal said. 
Although our custodian staff is here to meet our sanitary needs, there's no harm in trying to make their job easier. 
"The best way to make our job easier is respecting us as we respect you. If you see something on the floor, be helpful and pick it up. Pick up after yourself and keep the school clean, as you would your own home," Rodriguez said. 
Some may consider it a home and a family and the best way to keep a happy home is by helping every member in the house. 
"The highlights of my day are seeing the smiles on people's faces. Watching student's smile and laugh, watching my wonderful custodian staff along with the general staff laugh and have a good time, makes me feel good. It causes me to have an enjoyable day," Gomez said.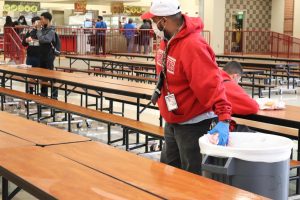 The students are the biggest part of this school, with most of us interacting with the custodians on a daily basis. Recognizing and seeing the important role they play in the maintenance of this school will cause you to see things from their perspective, just like they try to view things from ours. 
"Dealing with the students, sometimes we have to come down to their level. This makes it a lot easier to deal with adolescent teenagers. I try to think the way they think, instead of trying to be this big bad adult or parent to them. They have enough of that at home, so I personally try to gain their respect and they have mine," Rodriguez said. 
Especially in a post-Covid world, the custodial staff has adapted as best as they can. For a while, we weren't used to interacting with people, but this school year has caused that to change. 
"I've been working here eight years and with this job, you have your good days and you've got your bad days. But, to make the job easier, you've got to be a people person, you've got to know how to deal with the kids. I treat them like everyone else, like an adult, so I can communicate and relate to them better," Assistant Head Custodian Grant Beard said. 
This is a group of individuals on campus that we shouldn't take for granted. Now, you understand our custodian staff works 110% every day to ensure that our school is clean and functioning. It's time that we appreciate them and give them the recognition they deserve. 
—
If there are issues with this article, report it here.