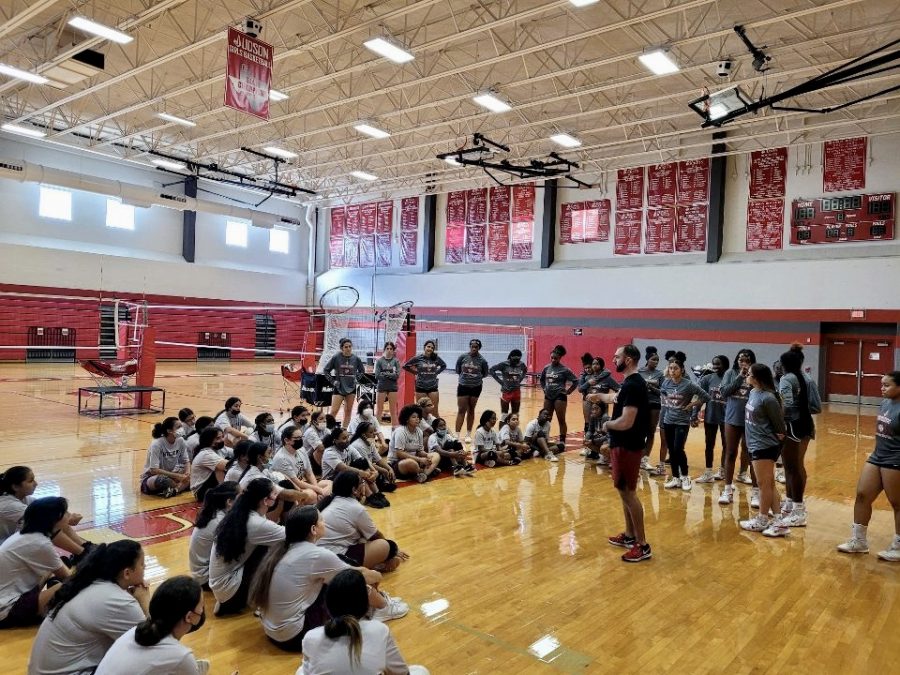 Coach Stephanie Valero
Middle school is the molding point of many volleyball careers. The Judson High School volleyball program found it crucial to start now, training the future of Judson athletes. 
To get some mentorship from high school students, the Judson volleyball program coached the Woodlake Middle School volleyball girls on Saturday, September 18, 2021, by walking them through usual practice and drills. 
Woodlake head coach Denise Tamez expressed how awesome it was to see her girls interact with their peers and older, more experienced players. 
"My expectations are for the girls to move on to the next level. I expect to see growth, having fun and for their work ethic to get better every day," Tamez said. 
She explains the satisfaction she felt to see former athletes from Woodlake growing into hard-working players. 
"It was cool to see the passion start in middle school and grow into high school. I loved to see you guys being the examples and role models to girls who love volleyball just as much as y'all. I saw a lot of accountability and leadership, along with positive affirmations, and constructive criticism which is helping them to grow as players and to be more mature within the sport," Tamez said.  
She said she expects the players to take what they learned Saturday and apply it to their future volleyball careers. 
"Today, they learned a lot of work ethic and hustle that needs to be applied in practice, and every game, so they can take it to another level," Tamez said.
Eighth-grader Anna Garza said her favorite thing she learned was to hit on top of the ball. She plans on making sure she's constantly working, getting reps in so that she can grow as a player. 
"I want to make sure I'm always hustling and working myself, so I can be the best I can be. I also plan on fixing my mistakes instead of dwelling on them, so that I don't repeat them," Garza said. 
Seventh-grader Arniah Jones explains that the practice was very informative and was a chance to be introduced to new things. 
"Although some things being shown to us were taught to me in a different way, I still learned a lot. For example, y'all taught me how to back set, now I have more options of who to set on the court," Jones said. 
This is Coach Tamez's 29th year coaching. She's seen many ups, and plenty of down's as far as Judson's volleyball reputation. However, she expresses the growth she's seeing and expects our Judson volleyball program to go far. 
"I see a difference and a change within this program. I recognize the passion and how y'all work for your coach. I see the sisterhood and growth and I believe you all are setting a welcoming tone for the middle schoolers. This was a great opportunity to see how you guys can become a family, coming from different schools," Tamez said. 
Senior Alexis Walker, along with junior Olivia Rubio, were some of the many volleyball girls coaching and critiquing the middle schoolers. They enjoyed the session and believe this is a good group of coachable athletes. 
"Today taught me patience. I took the time to demonstrate and explain so that everyone had a good understanding of how to do things the right way. My expectation is for them to just keep working hard and trying to adjust and overcome adversity," Walker said. 
Rubio says it was nostalgic to come back to her younger days and remember how it was back in middle school. 
"We were all once at that age and skill level, in their shoes, and since they were coachable, it made it a lot easier to teach them the right way to do things so they can be better," Rubio said.
The future athletes of Judson High School experienced what they needed to – to continue to progress in their athletic abilities. It's safe to say they are prepared for their future as volleyball players. 
—
If there are issues with this article, report it here.