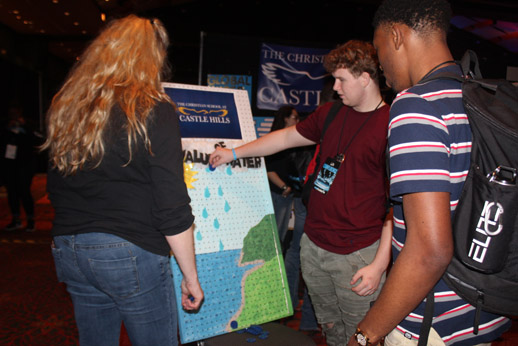 Amber Terry
Judson's aquatic science teachers Mr. Austin Ackerman and Mrs. Valeria Hellsman arranged for their students to take a trip to a Henry B Gonzales Center to attend Confluence, a water conservation convention.
The San Antonio Water System and other local high schools set up booths at the convention center to showcase ways to save water
"It was pretty cool how all schools came together to save water," senior Grace Kelly said.
Students walked around to each booth participating in activities to learn how to conserve.
"It was a good experience for us to learn real world situations," senior Jennifer Gutierrez said.
Saving water can save you money and diverts less water from our rivers, bays, and estuaries, which helps keep the environment healthy.
Each booth showed different ideas that schools can came up with to save.
''They were very informative, because we never think about how we use water bottles affect the Earth. The booths gave us an insight on what happens," senior Alix Godley said.
With positive responses from the students, the science department can make this trip a yearly tradition, allowing new classes the chance to learn new ways to conserve water.