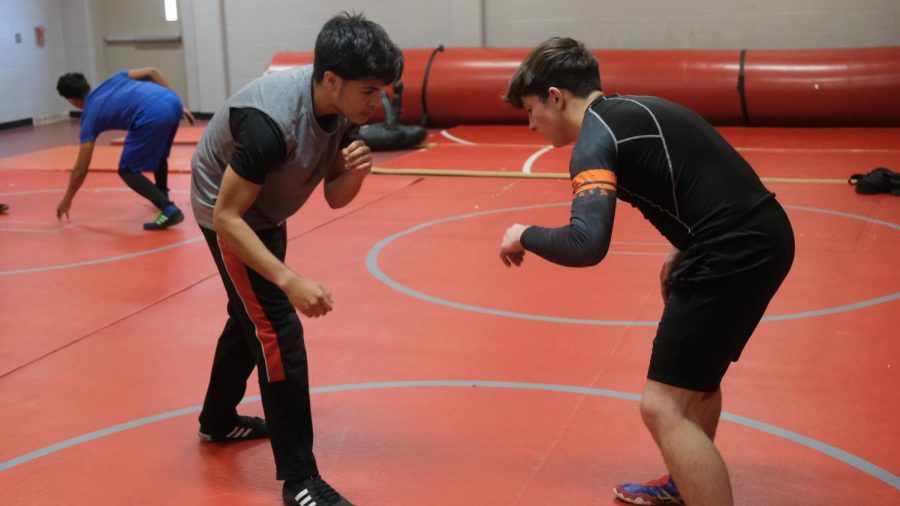 Juan Rodriguez Maldonado
Wrestling is usually held in the winter from November all the way through January. However, because of COVID-19, the University Interscholastic League had decided to push back wrestling to later in the school year, later than normal. 
It was thought that there wouldn't be a season this year because the pandemic only seems to be getting worse. Not only the seniors, but Coach Paul Guenther was disappointed because this is also his last year coaching wrestling before going into retirement. 
"Since my wrestling career, I coached many state champions in my life. I wanted to win one at Judson and we were heading in that direction, but COVID has thrown us a nasty curveball," Guenther said. "We were going to head into this season with seven returning regional qualifiers and our one state qualifier, but the team numbers have dropped tremendously."
Out of all the sports in Judson, wrestling has been the only "winter sport" that has been pushed into the spring. He believes as long as the team can take safety precautions, the team should be okay, following what the UIL is telling him to do to ensure a season happens.
"We follow strict rules now that we are back on the mats. The wrestlers must fill out the COVID screener every morning. They must show me the picture of their clearance, otherwise no screener, no entry. Their temperatures are also to be taken every time before they enter. If the wrestlers are over a hundred degrees, they must be sent home. They must keep their mask on at all times besides when working out, but once they step out of the mat they must put their mask on immediately. They bring their own water bottles and are not allowed to share. After every practice, they must take a shower and they may be allowed to take a shower before practice as well. They are also responsible for washing their own clothes and towel," Guenther said.
This year's wrestling matches and spectators will be limited compared to past years. The UIL has allowed at least up to six quads, (four high schools going against each other) but there will be no tournaments this season until districts. The UIL has also had to limit the number of competitors this year – there will be no junior varsity level and will only have varsity level boys and girls. 
According to Guenther, people will be limited at events. As for spectators, wrestlers will only be able to bring one family member or friend to districts and regionals. However for quads and state, also according to Guenther, they will not allow anyone but the wrestlers at those meets until further notice.
"For quads and districts, we are allowed to take the whole team. However, after districts, instead of taking the top four and one alternate like past years, they will only be taking first and second place winners to compete at regionals. If you want to compete at state, you must be in the top two at regionals," Guenther said.
Last year, Guenther said that the wrestlers were undefeated at dual matches. However, This year, due to multiple variables including the pandemic, the team will have to adjust to changes due to losing multiple wrestlers. Depending on if the other schools bring a lot of wrestlers to compete, he expects some of his returning wrestlers to do very well.
"We have a returning state qualifier this year, who will be wrestling his last year as team captain. Also, a couple of juniors are going to show great promise, and a couple of girls who made it to regionals last year, I think are gonna do fairly well this year as well," Guenther said.
Despite how much damage the pandemic has done, the wrestlers still want to do well and finish off this year to the best of their abilities and make their coach proud for his final year at Judson.
The wrestlers will have their first match against MacArthur, Lee, and Wagner High School on March 6. It will be held at Douglas MacArthur High School.
—-
If there are issues with this article, report it here.