A gym rat reviews their natural habitat
As a consistent gym rat for about 14 months now, I've learned precisely what I want from a gym to help assist me in my fitness goals. When looking for the perfect gym I usually go based on 5 main points. The energy of the gym, the equipment, how many squat racks there are, the price of the membership, and the cleanliness of the gym/locker room. 
In hopes of finding the perfect gym, I reviewed five gyms around the San Antonio area, ranging from small family-owned businesses to corporate gyms. 
TruFit Athletic Clubs. Score: 9/10
The first gym I reviewed was TruFit. When I first walked in I immediately felt a sense of good energy from the throwback J. Cole song roaring in the background of the gym. The employee at the front desk scanned my pass and told me to have a good workout. Just from the two minutes of me stepping into the gym, I knew it was going to be a good workout. I walked to the locker room to put away my backpack and change my shoes. The first thing I noticed was how clean the locker room was. Behind each mirror was a LED ring that made the lighting in the room perfect for a post-workout picture. Since it was a Tuesday I targeted quads and glutes, my first set was heavy depth squats supersetted by Romanian Deadlifts Lifts (RDL's). There were a total of five squat racks, two of which were in front of mirrors and the other three on a wood platform with crash pads. Since there weren't too many people there, a couple of the racks were open. After my sets, I moved on to leg extensions which was a machine that had multiple settings to fit all heights and weight ranges. After leg extensions, I finished out with leg press which was my favorite because I was able to hit a new PR of 482. After my workout I hit ten minutes of cardio, all of the treadmills and cardio machines were in their own section and had enough to where I could sprint comfortably without many people around me. TruFit's membership ranges from $10-$34. Overall TruFit was a 9/10. The gym gave off good energy and allowed me to work out comfortably. My favorite part of this gym was the women's only area and the cycle room.
Planet Fitness Score: 4/10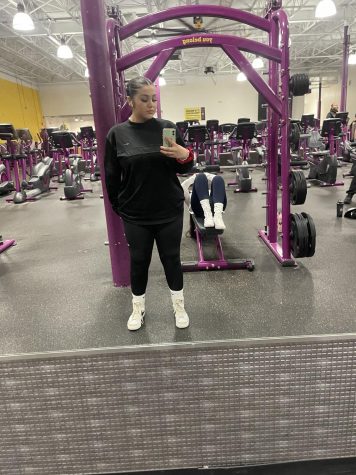 Planet Fitness was one of the other gyms I tried. When I first walked in the gym it was quiet but in a good way, the music was loud enough and not too many people. The first thing I noticed when walking into the gym was that there were no squat racks, but instead 4 smith machines. This unfortunately was a deal breaker for me. I walked through the gym to find the locker rooms which were very clean and big. The locker room had multiple mirrors with good lighting in each section which I liked. It was a Wednesday night which meant I was hitting my chest and shoulders.
I started my workout with a bench using the free weights. the weights sadly only went up to 50 lbs which was another deal breaker for me. After benching I moved to the shoulder press with the same free weights supersetted with lat raises. This was followed by an incline bench on the smith machine which I actually enjoyed. I noticed that Planet Fitness uses rubber plates instead of metal which in the past I've had trouble with. Since the plates are rubber as opposed to metal they are inevitably bigger which makes it harder to load more than two plates on the bar for heavy days. After my lift I finished my set with 20 minutes of sprint interval cardio. Planet Fitness memberships range from $10.00 to $24.99. Overall I believe planet fitness is a good gym for beginners or cardio based athletes; however as a powerlifting and crossfit based gym rat, this gym was not for me. Planet Fitness for me was a 4/10 because there were no squat racks and the free weights didn't go heavier than 50.
The Pit TX Score: 8/10
One of the smaller gyms I reviewed was The Pit. This gym is a family owned business which I loved. When I first got there I was asked to fill out paperwork and waiver agreements in order to purchase the day pass which was $5. The gym owner personally walked me through the whole gym and showed me where everything was located. This was a very unique experience for me. It was super refreshing to see how passionate she was about the gym her family had built. The whole gym had red equipment and motivational decals above all the mirrors. My favorite part of the tour was the outdoor grass section which had multiple forms of equipment. I decided on a full body workout which later turned into a pull day. My first set I wanted to go outside so I ended up warming up with RDL's. After that I went inside and settled on seated rows followed by lat pull downs.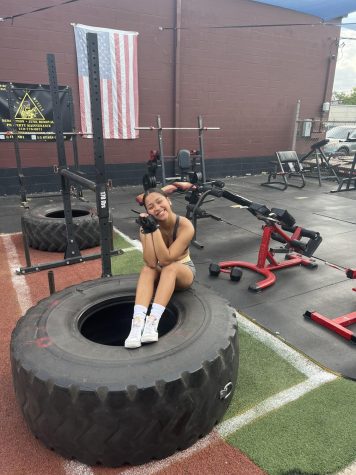 One thing I liked most about this gym was all their machines you had to add plates to lift instead of putting a pin in a weight stack. I moved on to pull ups–this is an exercise I mostly struggle with. One of the people working out next to me saw that I was having trouble and came up to me. He showed me how to properly set up the rack and helped to adjust my form. This was a golden experience for me, usually I'm the type of person who doesn't talk to anyone in the gym but I could feel his sincerity. This was the first time I felt fully confident and comfortable in the gym with absolutely no judgment. The Pit's Membership is $35 a month with full 24 hour access and guest privileges. Although I love The Pit and I do understand membership prices are higher because it's family owned, I give this gym an 8/10 for their authenticity and outdoor gym but the membership price is a bit expensive for a high school student.
Gold's Gym Score: 8/10
Along my journey of trying multiple gyms gold's was another gym I decided to review. When I first walked in there weren't too many people which I liked. The gym was a good size with a lot of windows which let the natural light in. I decided to do chest, biceps and recovery. I started with 10 minutes of mobility then 15 minutes of cardio. After that I moved to the free weights which went all the way up to 150LB. I set up the bench and started with shoulder presses, supersetted with lat raises. Just from those few workouts I had felt a really good energy and motion. Next I moved on to cable pulls, The gym had multiple attachments for the cables which I really liked. After cables I moved on to machine bicep curls. The machines counted how many reps you did, this was very helpful to me because sometimes I lose track of where I am. After my workout I  walked into the locker room which was a good size and very clean, this locker room was the most simple but still serves its purpose. Gold's memberships vary from $10 up to $40. This gym was an 8/10 just because I feel it could have been better if there were more machines compared to the size; with that being said I would be willing to go back. 
Crunch Fitness Score: 7/10
Crunch was one of the last gyms I reviewed. When I first got there I was surprised by how many people there were even though it was about 10 pm when most gyms usually have slow traffic. I walked to the locker room and put my backpack away. Crunch by far had one of the most aesthetically appealing locker rooms out of all the gyms I reviewed. The mirrors had an LED ring around them and marble counter tops with white sinks. The bathroom smelled of fresh lemon scented cleaner. When I walked out to the gym most of the squat racks were taken so I decided to start with a warm up run and stretch to let some of the people finish their sets. When the racks finally cleared and I started setting up to squat, the first thing I noticed was the oversized colorful rubber plates which I absolutely hate. After my squats I moved into Bulgarian split squats  followed by hip thrusts. For some reason the vibe in the gym felt off and I didn't have a super good workout but am willing to try Crunch again. The gym was pretty big and had multiple types of machines which I think would be great as an everyday gym. Crunch's memberships range from $10.99 to $29.99.  Overall Crunch was a 7/10 because of the rubber plates and the energy of the gym.
All in all, I believe any of these gyms can be effective for anyone who wants to start or continue their fitness journey. All of these gyms vary from different price ranges and different equipment uses. Of the five gyms reviewed, my favorite was The Pit TX.