About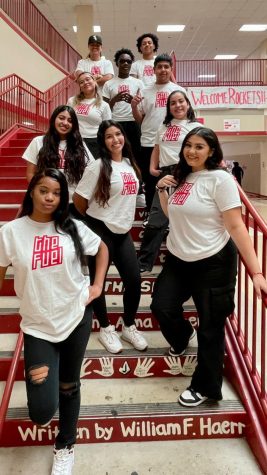 The Fuel is the open-forum, award-winning, engaging student newspaper for Judson High School in Converse, Texas, a suburb of San Antonio, Texas. The organization has grown to become a news source for Judson High School, Converse, TX, and even Judson ISD. It's also nationally recognized, creating multiple award-winning journalists who have gone on to study journalism at various universities.
The organization was created and is advised by Ms. Malila Kennedy and consists of about 10 student journalists. The department also produces four physical copies of the newspaper, operates the school's social media accounts, creates the school's yearbook, The Rocket, as well as a wide range of journalistic photos.
The organization is student-led. The journalists of The Fuel and The Rocket work collaboratively with, but independent from, the staff, faculty, and administration of Judson High School and Judson ISD. The journalism department and student journalists own all content produced by the organization.
Journalism is a vital profession for the health and operation of a democratic society. People need to be informed about what is happening around them. Journalists are people trained to witness important events and tell the story through the power of the written word and/or photography. Our students are beginning their journey to becoming professional journalists by reporting on the events and people at Judson High School and the Converse community.
Judson High School is a public, 4-year high school in Converse, Texas. It was established in 1959 and is now one of three comprehensive high schools in the Judson Independent School District. The school serves approximately 2,400 students. It has been recognized as a National Blue Ribbon School and an International Baccalaureate World School. Mr. Jesus Hernandez III serves as principal to Judson High School.
Judson Independent School District is a public school district located in the San Antonio, Texas area. It serves seven different municipalities: Converse, San Antonio, Selma, Universal City, Kirby, Schertz, and Live Oak. The district's superintendent is Dr. Jeanette Ball.
Very few students are part of an organization in which their homework is published and up for criticism. Please be aware that The Fuel newspaper and The Rocket yearbook are student-created publications made in a journalism education lab setting.  We regret that errors can and will occur.
If you wish to contact The Fuel, you can email them at [email protected], email Ms. Kennedy at [email protected], or call Judson High School at 210-945-1100 x19605.