Boys soccer falls to Smithson Valley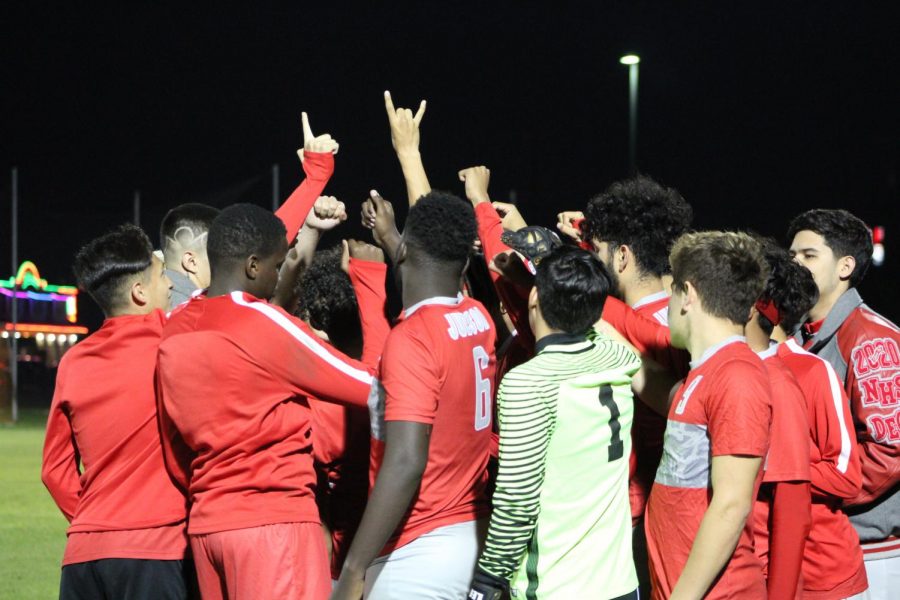 On Tuesday, February 4, the varsity boys soccer team competed against the Smithson Valley Rangers at Judson High School.
The Rockets started kickoff with the ball, but the Rangers were able to gain possession and get the ball into play in their offensive third. However, juniors Roberto Lopez and Ismael Gasana were able to keep them away from the box with great defensive efforts to prevent them from scoring for the majority of the first half.
With only four minutes remaining in the first half, the Rangers were able to break past the Rockets defense, resulting in an attempted shot by the Rangers. But goalkeeper Leonardo Garcia had a beautiful save. It ended up resulting in a successful corner for Smithson Valley putting the score at 0-1 by the time the first half ended.
The Rangers kicked off the second half at a quick pace determined to increase their lead. Slipping past the Rockets defense only two minutes into play, they scored from inside the box, putting the Rockets at a score of 0-2 shortly into the second half.
The Rockets persisted with their attack on the ball despite harsh winds. Junior Roman Sanchez did a great job of distributing the ball from the inside to the outs majority of the second half, benefiting the Rockets offensively with the outside runs. With tension and frustration building up on the field, there began to be more visible aggression from both sides of the field, especially from the Rangers. Five minutes into the second half, senior Humberto Villarreal put up a good fight with an opponent causing frustration from the other side which intensified the game. 
Ten minutes into the second half, the rangers set up quick plays and scored two shots past the Rockets with a score of 0-4. Soon after, the Rocket's defense stepped up, while the Rangers offense got lazy. The Rockets hardly let their opponents into their defensive third and began to show out in their own offensive third. Sophomore Josh Rodriguez showed phenomenal outside efforts, by continually forcing the Rangers to have to put the ball out of play. Soon after, Judson got the advantage of a corner but unfortunately didn't gain any points from the play. 
"We're headed in the right direction and we haven't played bad in the last few games, we just need to work on finishing our chances and maintaining intensity throughout the entire game," Senior Michael Lott said. 
The game came to a close with the Rockets unable to score, losing their 4th district game 0-4. The team will face the Canyon Cougars in their next district game on Friday, February 7, 2020, at Canyon High School. 
—–
If there are issues with this article, report it here.