Class of 2021 participates in Elephant Walk
On Thursday, May 27, 2021, the Class of 2021 walked the halls of Judson High School for the annual Elephant Walk. 
"Today was an emotional and invigorating day. Knowing that we're getting back on track and that we're getting back to normal makes me emotional because this is the class that almost didn't get to have these kinds of events because of COVID-19," Principal Jesus Hernandez said. 
Today was a once-in-a-lifetime experience for the class. They walked through the halls for the last time while being praised and congratulated by their former teachers and peers. 
"It feels unreal right now. Literally, my whole life I've been around school, and being a student is all I know and now that I'm graduating high school – it feels unreal. However, I feel like the class of 21 is one of the best classes going out of Judson and I'm honored to be a part of it," senior Jacob Ramirez said.
Because of the many restrictions and health precautions the school had to follow this year, Elephant Walk was one of the only normal events that seniors were able to participate in.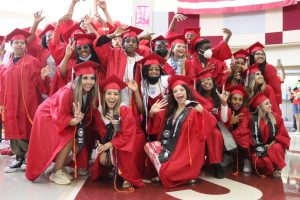 "It's such an emotional moment. We all didn't get to have a real senior year and now these last few weeks we can all finally get together so it's just super emotional but I couldn't be more excited," senior Kristalyn Bermudez said.
Unfortunately, because of how abnormal this school year was, many seniors feel like they didn't get to experience the full excitement and get the experience they all deserve. 
"It really hasn't hit me yet that I'm graduating high school and I won't be able to experience this again, but I'm really excited and looking forward to what's going to happen after," senior class president Robert Rigsby said.
Despite the challenges, this year's seniors have faced they all have kept their heads high and got through it all together. 
"Thank you for being such a great class especially these past few weeks, thank you for all the memories and I hope we can all stay close," Rigsby said 
This year's seniors will graduate on Saturday, May 29 at Rutledge Stadium at 7:30 pm.
—-
If there are issues with this article, report it here.