Dancers kneel during national anthem
This is the second time this season the dancers have kneeled. The first time was during the football game against New Braunfels.
A group of Judson dancers decided to take a stand against racial injustice by kneeling during the playing of the national anthem during both the New Braunfels and Clemens game as a form of protest.
"I feel it's important to get the statement across that [those affected because of racial profiling] are not fighting alone," sophomore Ryanna Isaac said.
The dancers are kneeling in hopes to raise awareness of racial inequality and police brutality. 
"We're fighting for equality and a better world where we can all learn to accept and love each other without judgment," sophomore Jayden Maitha said.
Kneeling was first seen by football quarterback Colin Kaepernick in 2016 as a protest against police brutality and social injustice. The protest of kneeling and pushing for social justice has gained more publicity since the deaths of George Floyd and Breonna Taylor. 
"It's just been put aside for so long and now that it's gaining awareness. I think it's great," Isaac said.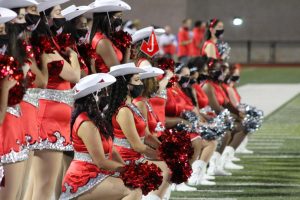 The dancers feel it's important that they let their voices be heard because if they don't, the people who are affected may never get the attention they need.
The Supreme Court case Tinker vs. Des Moines said that students do not "shed their constitutional rights to freedom of speech or expression at the schoolhouse gate." The country has seen high school students speak up, from students protesting the postponement of fall sports, to a group of cheerleaders addressing those in the crowd not wearing masks, to Minnesota students protesting for racial equality.
"Society has been holding a blind eye to the disgusting displays of racism against black people for too long and now," Maitha said. "Instead of hiding in the shadows, Black people and people who support Black lives are making a stand and protesting all around the world. They're speaking out against the inequality and prejudice that Black people face on a daily basis and are letting their pained voices that have been struggling all their lives be heard and acknowledged." 
The Judson dancers have indicated they will continue to protest for the rest of their season in hopes of raising more awareness. The Fuel reached out to the dance directors, who did not return our request for comment.
—-
If there are issues with this article, report it here.