Jostens workshop sets the tone for a new yearbook staff
This year the Judson High School Yearbook program attended the Jostens yearbook workshop after not being able to attend due to the previous COVID-19 restrictions. The Jostens workshop was a great way to bring the 2022-2023 Yearbook staff together by participating in team-building activities and also learning new skills and techniques to help create our yearbook. The Judson High School Yearbook Staff came home with two team-building prizes from competing against ten other schools around San Antonio. 
I feel like being able to attend this workshop was a huge success for our yearbook program due to this year's staff having a lot of new members. The workshop brought our staff closer but it also benefited us in learning new ways to promote and create our 2022-2023 school yearbook, which brought our yearbook theme to life. During the workshop, we learned ways to create our spreads, ways to photo crop pictures to make them stand out more, and ways to write appealing captions. Learning those techniques gave us many bright ideas for this upcoming school yearbook. One way we learned how to write captions was by having to examine a picture and describe what was happening in the picture with our team.
As a team, we not only got a chance to improve our teamwork skills but we also improved our socializing skills by talking to other students from different high schools. One of the activities we participated in was to make a replica of a picture but only using paper, no pens or markers. This activity made us all use our creativity and put all our ideas together to make one. When participating in this activity many of us learned that for us to win it takes one team, not just one person. Working as a team resulted in us winning our first major prize which was a staff donut party.
The second activity we participated in was meeting someone new from other schools and interviewing them with three questions and pitching a story idea. Many of the staff members came to the realization that the yearbook requires you to get out of your comfort zone and meet new people. For this activity two of our yearbook staff members won this activity which was sophomore Deborah Kodzo and Senior Anneliese Ackerman. The two grabbed us the second major prize which was a staff pizza party.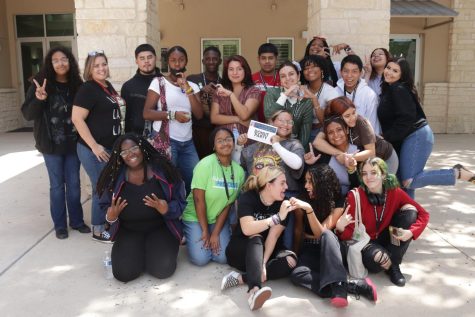 The overall Jostens workshop was a great success for us this year especially because this year our yearbook staff has a lot of new people. During the workshop, we got to experience everyone's ideas and how everyone likes to work which introduced us to new ways to build this yearbook as one. The workshop made all of us work as one which is definitely a great way to get your yearbook staff closer and also a way to improve your staff's overall skills.
The yearbook staff would like to say a big thank you to Jostens for allowing us to attend the workshop and giving us many opportunities to improve and create our 2022-2023 school yearbook. We would also like to thank the anonymous donor for making it possible for us to attend the workshop. The Judson High School 2022-2023 Yearbook is available for purchase on The Fuel website.