Judson FFA's Addison Wolfe competes in the Junior Pitmaster competition
Howdy y'all! It's time to get this party started with our Annual San Antonio Rodeo cook-off!
Our San Antonio Rodeo started off on January 27, 2023, with the Buckaroo Que cookoff for juniors, and one of our own Rockets participated in the cookoff.
Addison Wolfe, a freshman, is a proud member of the FFA program. and she is always looking for new things to do because she loves to challenge herself and barbecuing is one of those hobbies she explores.
"So I have been showing pigs since 3rd grade and about five years ago I got introduced to the BBQ world. It's always fun competing at different competitions and it's nice to learn to cook because it also gives me an opportunity to show my skills to friends and family," said Wolfe.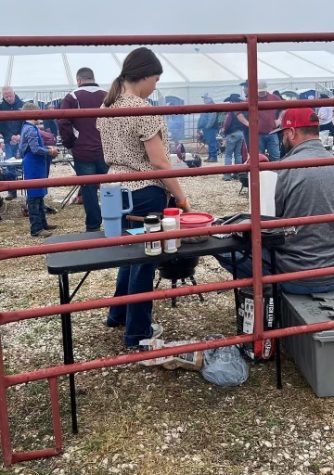 Wolfe has been raising swine ever since she was eight years old. She has always been committed to this career she has built and puts 100% into her showing.
"I have done this cook-off for 5+ years and it's something I do in my off-season of showing animals because pigs take up most of my time," said Wolfe.
Over the years Addison has learned new skills that she can carry with her for future competitions. Wolfe has also learned that it's okay to not win because there is always a new year where you can come back even better.
"I have learned that every competition brings new judges that all have different taste buds, so I try to bring in new flavors to the pork chops. I also learned to practice with friends and family to get their opinions and to perfect my flavors," said Wolfe.
There is a procedure that Addison follows to make sure her pork chop comes out perfect for the judges.
"I first start off by cutting the really fatty pieces off and then I tenderize the meat. Second I season the meat and then I check on my fire to see if it's hot enough. Then I cook the pork chop on each side for 2 minutes. Lastly I sauce it up and then it's ready to be served for the judges to judge," said Wolfe.
Even though the turn out isn't what we wanted, what matters the most to Wolfe was that she had fun and is grateful for the opportunity.
"I unfortunately did not win but I think what I could have done differently is that I should have added more sauce and spice to expand the flavor," said Wolfe.
With this outcome, Wolfe is proud that she gave it her all and is thankful for all the support. She is prepared for what is to come in the future.