Mr. Pedro Cabrera awarded Distinguished Educator of the Year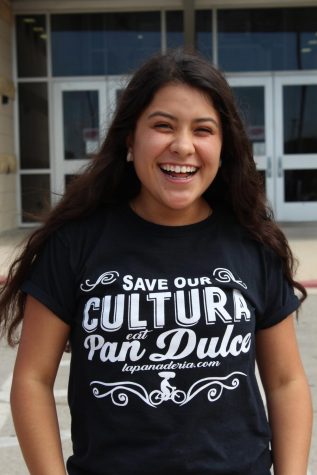 More stories from Izabella DeLaGarza
Building a program up from the ground is not easy.
Teaching children how to properly hold hundreds of dollars worth of journalism equipment is not easy.
Finding time to teach a dual credit class also is not easy.
Finding time to be involved in the academic community on and off campus is not easy.
Receiving your Masters degree and starting the process of getting your Doctorate is not easy.
But our journalism adviser, Mr. Pedro Cabrera, has done all of this during his time at Judson.
His work is finally getting recognized, as Cabrera has been named the Judson High School Distinguished Educator for the 2018-2019 school year.
Nevertheless, he refuses to bask in the praise he has been receiving since his awarding.
"Contrary to popular belief, I actually don't like a lot of attention on me, especially in situations that I am not comfortable in," Cabrera said. "I'd joke about [getting the award], but I just didn't expect it."
What may come as a surprise to most is that Cabrera was let go from his previous job before coming to work at Judson.
"In my last district in Houston, they required an ESL certification within two years of being hired to continue in the district," Cabrera said. "I took the test three times and failed all three. I had to move to find a job. Judson called me back and here I am. Maybe things happen for a reason because I am very blessed in the position I am in."
When he began his job here, he arrived to a poorly managed program. Cabrera saw that as an opportunity to make something great for the campus.
"My task was huge," Cabrera said. "The program was a mess: no newspaper, a bad yearbook, and a decades-long debt. I had to put the right systems in place to ensure we were successful. Over the course of the last five years, we have grown so much and have produced great work. And we are nearing the end of paying back our debt. It makes me happy when I go to workshops or conferences and people know Judson Journalism."
Even after everything he has done for the journalism program, his classes, and the school as a whole, he constantly gives all of the credit to his students.
"I've been blessed to have good kids that make me look good, to be honest with you," Cabrera said. "If it weren't for the students that I have and had, [the journalism program] would never be at the point that we are now."
He acknowledges he has some part in the success the journalism program has gained but persists on the fact that the students did the heavy lifting.
"They work so hard to make everyone else look good, to take everyone else's pictures, to tell everyone else's story. Journalism students are the best, most selfless group of students," Cabrera said. "I use this analogy… I am an oven. The students are the ingredients of an amazing cake. If the chemistry (literally and figuratively) isn't there, the cake won't rise. If it all works, then it makes a beautiful cake. All I am is the oven, to make sure it all comes together."
His students, especially those on the yearbook or newspaper staff, have formed a bond with Cabrera, making him one of their most beloved teachers.
"Cabrera has literally taught me everything I know about journalism. The fact that [I am] hoping [it is going] to be my career, I can truly say that he's helped me every step of the way," The Fuel co-editor Madalynn Lambert said. "He is truly an inspiration."
Cabrera, who already has a Masters in Communication Studies, is currently working on his Doctorate in Educational Leadership.
"I've always had this want to be better than I was before," Cabrera said. "I also think it is important for our students to see successful teachers in the front of the room, especially successful teachers of color."
Cabrera has achieved more than he takes credit for. His humbleness, determination, and bond with his students has carried him to where he is now in his career. There is no doubt about it –  Mr. Cabrera really is a Distinguished Educator.