Ms. Laura Poling named new head band director
After spending one year as an assistant, Ms. Laura Poling has been selected to lead the Judson High School Band as the new head band director.
"I'm very excited about stepping into this position and looking forward to working with the students next year as the head director," Poling said.
She started playing instruments as young as four when her mom enrolled in piano. She continued those lessons through her freshman year at Texas Tech University. She also picked up the trumpet as a sixth-grader in Plano ISD and continued that through high school. By the end of the year at Plano East High School, she received a scholarship to Texas Tech University to play trumpet as a member of the trumpet studio.
"I was a member of the Goin' Band From Raiderland (marching band) from 00-03, the Wind Ensemble, and Trumpet Choir," Poling said.
She spent her summers touring the country competing in drum corps international, DCI, as a member of the Blue Knights Drum and Bugle Corps out of Denver, CO. She was also a member of the trumpet section with the Santa Clara Vanguard Drum and Bugle Corps from Santa Clara, CA. 
After aging out of DCI 2004, she taught with the Colts Drum and Bugle Corps out of Dubuque, IA on tour in 2006 as a visual tech and 2009-2012 as a brass tech.
On top of her teaching experience in drum corp, she also has experience teaching in a traditional classroom.
"I started at Rhodes Middle School in 2007-2009 and left to get more experience teaching high school. I moved to Medina Valley High School and Middle School from 2009-2012. I spent my next few years teaching at Brennan High School from 2012-2015," Poling said.
On top of being a leader in music, she is also a leader in CrossFit.
"I started CrossFit in 2011 and started competing in 2013. That led me to make CrossFit regionals in 2014 as an individual athlete and later as a team athlete in 2016. I competed in the amateur grid league in 2015 as well as the National Pro Grid League Pro days and Combine as a barbell specialist. I was drafted to the Phoenix Rise in 2016. The Phoenix Rise went on to win the NPGL championship in September of 2016," Poling said.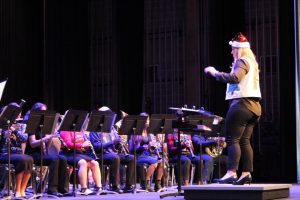 Being the director of a band is incredibly difficult. However, being the head band director of a large 6A high school has its own difficulties pressures.
"Being a band director is more than just teaching music. We have the luxury of having our students for more than one year. They come back to tell you everything they've accomplished," Poling said.  "I grew up watching the band at East every Friday and honestly, I couldn't think of teaching anything but band. There wasn't another subject I could think would fit my personality or my passion."
Former head band director Mr. Jeffrey Keyes had an impact on her life.
"Mr. Keyes taught me what it was like to work on a functioning team. I truly miss working with him and although our time was short, we have a lifelong friendship and still go to the same CrossFit class when our gym opens back up," Poling said. 
Her tenure has band director will begin during a time in which public education has changed tremendously due to COVID-19. However, it seems like Poling is the right person for the job.
"I love my job and miss our kids," Poling said. "I love the interaction I have with my students. The best part of teaching is seeing how far they grow throughout the school year. They start from not being able to step out with the left foot or complete their workouts in summer band to performing to the best of their ability at the end of a finished marching show."
—–
If there are issues with this article, report it here.