Teachers adjusting to virtual learning
More stories from Steven Stein
After returning to campus on August 10, Judson High School staff worked tirelessly attempting to learn the complex intricacies regarding new programs required to teach during the 2020-2021 school year. 
With new staff, programs, and of course, brand new circumstances as a result of Covid-19, the first week of school was highly anticipated as much as it was a subject of anxiety and uneasiness amongst both staff and students.
"Really, the only thing I expected was uncertainty. We were not sure we could even come back to the building, let alone get back into the classroom with students. It felt very isolating," English teacher Alexis Mcjilton said.
Though online learning is currently the safest setting that can be provided, many unique challenges present themselves when adopting a new way of teaching, especially concerning those in unique fields of education.
 "I can handle the zooms and computer stuff, even though I sometimes don't want to. And I can deal with the notion of changing the way I teach or the way students learn, for the time being," art teacher Cathryn Davis said. "The part I have trouble with is that I don't want my students or myself to begin to expect that this is the new normal forever. I want some of the old and easy or, at least known and understood back."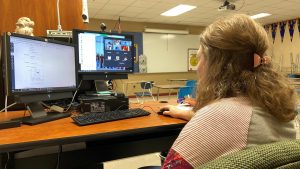 A distanced learning environment also introduces unique challenges to students and teachers involved in various extracurricular activities and electives.
"I teach art, beginning through advanced. I teach techniques and skills and I teach with demonstrations and shared experiences. These are all things that are a lot harder to teach through a computer screen," Davis said.
In spite of the difficulties teachers and students alike are facing regarding online school, some still advocate for its relevance regardless, recognizing the potential dangers of reinstituting regular schooling means. 
"I'm worried about kids who need human interaction to thrive," Mcjilton said. "I'm also worried about teachers who need to stay healthy for our system to work. We know that when we return to face-to-face, there is a chance some teachers and students will become ill, and maybe severely."
Of course, one of the major differences between online school and physical learning would be the contrasting social circumstances, but this as well comes with risks.
"One thing that I am really hoping for, above all, is that the district realizes that stopping the spread of Covid-19 is more important than securing funding – in-person schooling will be anything but disastrous," senior Adriel Reza says. 
Though the Judson community's current situation has its complications, the situation will only improve through time, effort, and above all else, patience. This is without a doubt a learning experience for all individuals affected and maintaining the right attitude is key to adapting to the changing learning environment.
—–
If there are issues with this article, report it here.