Tragedy at Astroworld
Two students share their testimony about attending the festival, which quickly turned into a mass casualty event.
"Everyone waited till 9:02 to hear Travis hop on. Before it started, I had made small talk with the people around me and we all agreed to have each other's back in case of anything," senior Isaac Godinez, who attends Wagner High School said. "Unfortunately, as Travis got on stage the crowd began to compress and the girl in front of me passed out. I remember asking the guys from earlier 'how are we going to get her out?' They told me, 'I don't know.' After about five minutes, we were finally able to get her out in a crowd surfing method."
The crowd began to scream and people were falling.
"I was so shocked. I couldn't breathe," Godinez said.
On November 5, 2021, Travis Scott performed at AstroWorld in Houston Texas. Two students from the district, senior Isaac Godinez and senior Dylan Rodriguez, who attend Wagner High School, attended the festival.
"I was looking up to the sky for air. Eventually, I was able to move further back. I got to the fence at about 9:13 p.m. There was a man hanging onto the fence with his left arm. I didn't see him until he tapped my thigh and screamed for help. I put my phone in my jacket pocket and put both of my arms around his right arm and pulled with all the strength I had," Godinez said.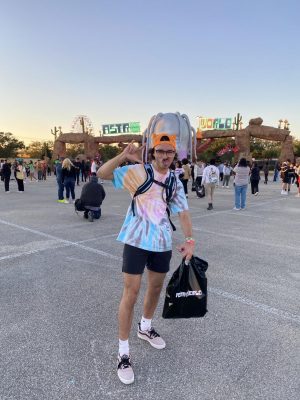 After several minutes of trying to help the man, Godinez got a hold of security.
"Security and I were helping to try and get this man out. His legs were stuck from everyone stepping on him and the countless bodies piled on top of him. Security was able to finally spread the crowd out and I was able to help the man get back up. Before they took him to receive medical help, he thanked me. I was speechless. My heart hurt," Godinez said.
He watched as a man almost died, right in front of him.
"I didn't expect to help a man that night. It all made me want to cry, the way that the others were just enjoying the show instead of helping a man out of a near-death experience. I prayed to God right after that," Godinez said. 
Godinez thought everything would be fine after the first incident. 
"I thought everything was okay now. I thought it was safe to enjoy the show, but no. As soon as Drake came on, it was worse. I saw more people getting squished, yelling, screaming in either pain or enjoyment, others around me were still getting hurt. It didn't stop until Travis took a small pause to acknowledge the crowd." Godinez said 
Travis Scott gave a small speech to the crowd about carrying love with everything they do then proceeded to perform. 
"I felt some satisfaction from the acknowledgment but it definitely wasn't enough. People were still stuck in the crowd either on the floor or standing, losing their breath. Travis ended his performance at 10:12 p.m. Ambulances were finally able to swarm and move people." Godinez said.
This was his first concert.
"I couldn't believe what happened. Of course, I assumed people would be injured. I expected that. It wasn't till 8 a.m. on November 6. I had heard that eight people had died. My mind went into a pause. I rethought the entire night. It became so hard to sleep that night and the nights after."
On the other hand, senior Dylan Rodriguez had a different experience from the festival.
"I had packed all my clothes the night before so I could be ready when I got dropped off at Isaac's house the next morning. When I got there, we loaded up the car and were on our way to Houston. On the road there, I was constantly checking Discord chats of people I knew who were already at the festival – there were already people lined up and others who were breaking down gates at only 8:30 am," Rodriguez said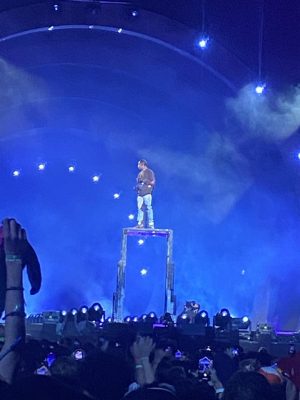 When Godinez and Rodriguez finally arrived at the NRG Park Stadium, they knew they would have to split up. From the beginning, it was obvious there was no control at the event.
"We finally made it to Houston around 11:30 where we got in line for 'roll call' so Isaac could get his wristband. I didn't have a wrist band so I knew I had to sneak in. If I couldn't get in, my plan was to just call Isaac's mom and hang out with them while we wait for it to be over. I knew it was wrong, but Travis Scott is my all-time favorite so I knew I had to get in." Rodriguez said.
Rodriguez and Godinez split up and planned to meet back up once they were both in.
"There were about five or six cops on huge horses. After some time, they finally left and the coast was clear. There was a bridge where I saw others breaking through. I knew this was my chance. I hopped the fence and got on the bridge. I ran across it and jumped another gate. I was in," Rodriguez said
Once he got in, things went downhill. 
"Once I was in, I thought I was in for sure, but I was wrong. They were doing wristband and security checks so we planned to rush the small VIP entrance on the opposite side. Almost everyone got through but I didn't. I ended up leaving the stadium but I knew I still wanted to get in. I found a blocked-off road, walked down it, and came across a group of seven other people [who were trying to get in]. They told me the plan and I was ready. I jumped two eight-foot gates but found myself in a dead-end. When I turned around, there were six cops waiting for me," Rodriguez said. 
Rodriguez was taken to Harris County Jail. 
"I sat for 14 hours in a cold room. I saw on the news eight people had already died and 17 people were hospitalized. I was so worried because I should have been there with Isaac. I didn't know his or his mom's number by heart so I couldn't call,"  Rodriguez said 
Rodriguez was released on Saturday, November 6, 2021, at around 1 p.m. 
"I was charged with criminal trespassing and was going to be released. I waited another three hours before they let me go. When Isaac came to pick me up, I gave him, his mom, and two little sisters a big hug. I was so happy to see he was okay," Rodriguez said. 
Both Godinez and Rodriguez included in their statements their deepest condolences to all the people and families affected by the tragedy. A total of 25 people have been hospitalized and 10 have died so far. Travis and Drake have been named in numerous lawsuits, totaling $750 million.
Unfortunately, there are still statements coming out and people being admitted to the hospital. There won't be an end to the tragic stories that took place at Astroworld Houston for some time.
—
If there are issues with this article, report it here.