Two wrestlers headed to state tournament
In an achievement not reach in years, juniors Isaiah Dugar and Luis Rodriguez will travel to the Barry Center in Houston to compete in the UIL State Wrestling Tournament this weekend.
"There are usually eight people in your bracket. The top four go to regionals. There are four regions. In your regions, there are 16-man brackets. And you have to place top four. I placed third," Rodriguez said.
Both boys have spent countless hours training, learning new skills, in a sport that is usually overlooked in a state that has a heavy football culture.
"My family is a football family. So, when I tried wrestling, it was mostly my uncle that helped me out. I picked up a lot of stuff in the summer. My uncle is a big factor of me getting better," Rodriguez said.
Especially at this level, the support system around these boys is vital in their success.
"My parents were just happy that I went to district and placed," Dungar said. "They are very supportive, even though they can't come to everything. But when they do, I can hear them when they are in the crowd. My dad helps me too, down there on the mat. I should have more family coming down to watch me at state," Dungar said.
And with every sport, it is the coach that pushes each athlete, skill by skill, hour by hour, to ultimate success.
"He puts us in scenarios we wouldn't normally get into and teaches us to get out of them. He is a pretty smart coach," Dugar said.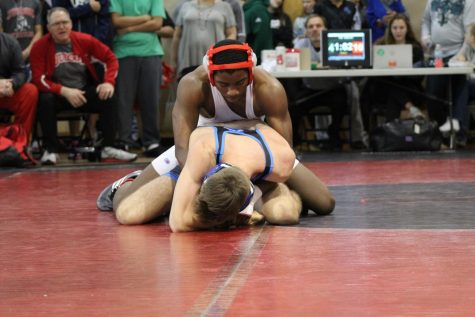 Rodriguez echoed the expertise of Coach Guenther.
"His speeches are amazing. If I have doubted myself, he tells me I have to take the step up," Rodriguez said. "He knows what he is talking about."
Achieving the level of competing at state is a rarity. For Rodriguez, it's about going into the weekend being cool, calm, and collected.
"I am not trying to get myself too excited. My coach said this is just the beginning. I'm just ready," Rodriguez said.
Dugar plans on getting better and pushing his teammates to compete with him next year at this level.
"We are all competitive with each other. So, they all plan on getting to state with me next year," Dugar said.
Hopefully, both boys will come back with medals from this weekend.
"The adrenaline helps me to succeed. It makes me feel good knowing that I bet the person on that mat, knowing my hand is being raised based on the skills I have learned," Rodriguez said.
The tournament starts Thursday, February 21, 2019, at the Barry Center in Houston and will continue all weekend.