Choir ends the year with their annual holiday concert
More stories from Alexandra Villanueva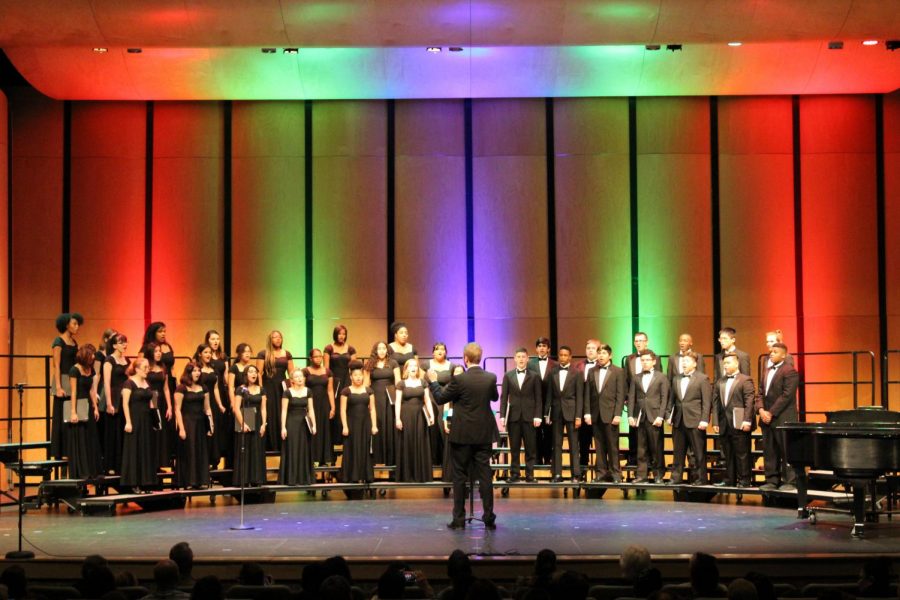 On Tuesday, December 18, the Judson Choir put on their annual Christmas concert. After experiencing a minor postponement due to weather, all the singers were ready to show off their skills in front of friends and family.
"It was really upsetting to have the concert pushed back – we were supposed to have the middle school girls come and sing with us. A lot of us were really upset because we have known these dates since May," junior Molly Tilton said.
Starting off the night, the chorale was joined by some of Judson's orchestra to perform Gloria. As the audience applauded, the focus moved to side stage, introducing the music theory class who performed Silent Night and Carol of the Bells.
"It was kind of stressful cause I stumbled on my dress from coming off stage but it was fun," senior Camille White said.
Cantate's debut brought melodies such as Caroling, Caroling, Jamaican Noel, and Merry Christmas, Happy Holidays. Adding an extra bit of pep to the show, their last song was a rendering of the Pentatonix version.
"It was easy to pick up on it and it was fun. I'm glad I got to sing it with my choir," junior Kaia Lopez said.
The next group onstage was Nova, who performed Once Upon a December, a popular song from the children's animation film Anastasia. The group then shared the stage with brothers' ensemble for a single song before giving the spotlight to the brothers' to sing two of their own songs.
The single song and the crowd favorite of concert women and ladies a capella was All I Want for Christmas is You. They added dance moves to the song, entertaining the audience and making them laugh.
Chorale began to wind the night down by singing three songs, the most popular being the Frozen Choral Suite. What truly brought the night to an end was the Festival Chorus, in which community members, students, and teachers joining the chorale to sing Home for the Holidays.
As a tradition after every concert, they sing Lord Bless You and Keep You. Standing together, they joined in one last tune, laughing and smiling, simply enjoying the feeling in the air.